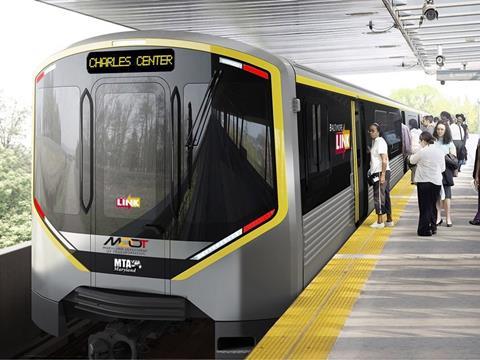 USA: Maryland Transit Administration has awarded a $400·5m contract for the supply of metro rolling stock and signalling. The supplier is the Hitachi Ansaldo Baltimore Rail Partners joint venture of Hitachi Rail Italy, which will supply 78 metro cars, and Ansaldo STS's US subsidiary, which will replace the existing signalling with CBTC.
To be assembled at HRI's factory in Miami, the stainless steel bodied cars will feature. Designed for a 30-year lifecycle, each car will have capacity for 196 passengers, including 76 seated. They will be formed into two-car married pairs and are expected to run in multiple. The vehicles will be equipped with wi-fi, a passenger information system, and fibreglass front ends with LED lighting.
The first of the new trains is due to enter revenue service in 2021.