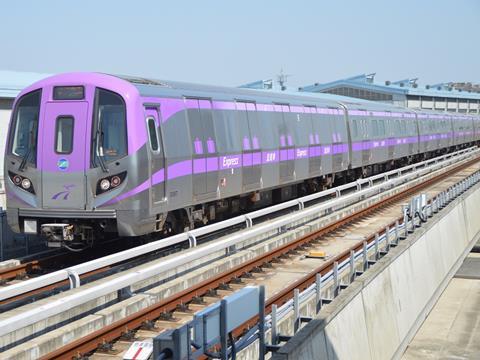 TAIWAN: Hyundai Rotem announced on June 26 that it will supply railway systems to the Taoyuan metro Green Line.
The 54·2bn won contract includes the supply of 40 two-car driverless trainsets, which the company will assemble at its Changwon plant. These would have an operational speed of 80 km/h.
The trains will include lights by priority seats that are activated when a pregnant woman approaches carrying a small transmitter. This would allow passengers to know when to give up the seat.
Due to open in 2025, the north-south Green Line would be the second metro line in Taoyuan. The first line was opened in March 2017 and connects the airport with Taipei Main Station. The 27·2 km first stage of the Green Line is expected to run from an interchange with the Airport Line at Kengkou to Bade via Taoyuan railway station, Planning is already underway for a 10 km branch to serve the Aerotropolis development zone between Changxing and Hengshan.