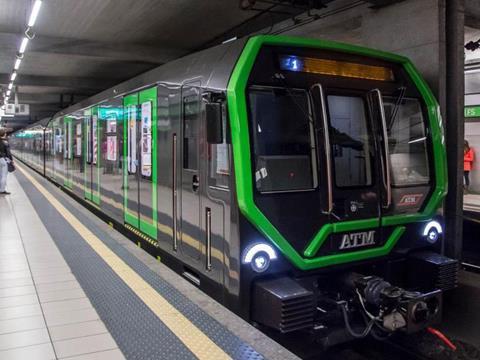 ITALY: The Ministry of Infrastructure & Transport has allocated a total of €1·4bn to urban transport projects throughout the country.
Roma is the largest recipient, with a total of €425·5m. The larger part of this, €291·1m, would be spent on upgrading metro lines A and B, including the power supply and safety systems. Tunnels will also be refurbished, with extensive work to take place on the Anagnina – Ottaviano section of Line A, which will also have its control centre modernised and rolling stock overhauled.
The remaining €134·4m is to be spent on the purchase of 12 trainsets for Line B and two for Line A.
Milano receives €396·2m, which augments the €285·2m already in place for several projects. €180m is allocated for resignalling and fire safety improvements on metro Line M2. A further €103·5m is going towards the construction of Line M4.
The allocation of €90m towards the purchase of 50 bidirectional trams takes the available funds for the procurement to €150m. A further €8·8m has been earmarked for the first phase of upgrading the Milano – Limbiate interurban tram line, in addition to the €89·1m already in place; the ministry allocated €40m towards the second phase earlier this year. Milano also receives €12·8m towards the construction of separate lanes for trolleybus routes 90 and 91.
A further €148·1m has been made available for the western extension of the Torino metro to Casciine Vica, taking the central government's contribution to €271·8m. Torino is also receiving €75m for the purchase of new trams.
The €137·8m contribution to Genova is to be put towards the purchase of 11 metro trainsets and one-station extensions at both ends of the line, to Canepari in the northwest and to Martinez in the east.
The ministry is granting €59·5m towards the purchase of 17 two-car trainsets for the Catania metro. The purchase had been approved by the Interministerial Committee for Economic Planning in December, before full funding was in place. A separate procurement of 10 trainsets is being financed from EU funds, and the government had previously allocated €9·9m for the refurbishment of the existing fleet.
Padova is to develop a new rubber-tyred tram route between the railway station and Voltabarozzo in the southeast with the aid of €56m. Meanwhile Firenze has €47m of government money for construction of tram line T4.
Reggio Calabria is receiving €23m to modernise the Reggio Calabria Centrale – Melito section of its suburban railway line, which is branded as a metro. The project includes building three stations.
The ministry is funding trolleybus purchases in Vicenza (€19m) and Rimini (€8·9m). It is also putting forward €1·46m, which was missing from the €14·6m needed to enlarge the Piscinola depot on Napoli metro Line 1.