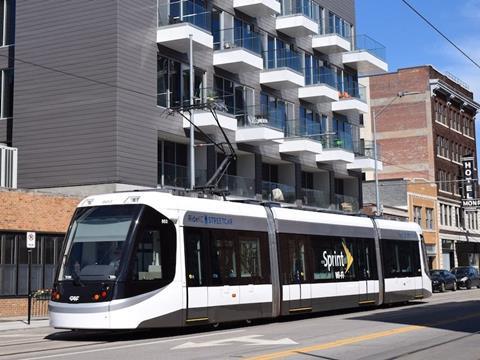 USA: Kansas City council approved the purchase of two additional CAF Urbos trams on June 29 to meet increasing demand on the KC Streetcar. Deliveries are due in 24 months.
The vehicles will cost $11·9m, which includes including $2·1m for spare parts and inspection support. The purchase will be paid for using Transportation Development District funds, which are available as a result of faster than expected growth in sales tax proceeds, as well as stabilised operational expenses.
'Future growth in downtown housing and development of new activity centres are anticipated to significantly grow ridership demand in coming years', said the city's Transportation & Infrastructure Committee Chairman Jermaine Reed. 'This investment will allow us to meet the current demand as well as improve service for our riders.'
KC Streetcar currently has a fleet of four CAF Urbos three-section trams, of which three are needed to operate the regular service.
KC Streetcar Authority reports that nearly 2·4 million passenger-journeys have been made since the line opened in May 2016. Average daily ridership is 5 700 passengers, more than double the initial forecast of 2 700 passengers a day.