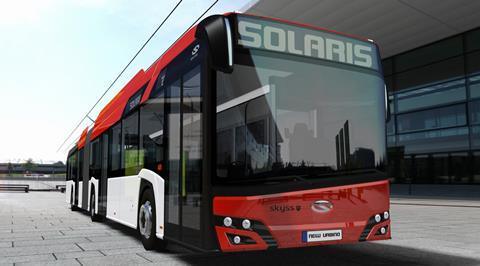 NORWAY: Keolis Norge has ordered 88 battery buses and 10 battery trolleybuses for use in Bergen under two contracts announced on December 2.
Yutong Eurobus Scandinavian is to supply 88 E12 electric buses next year. A pre-production prototype is due to be delivered next month. The 12 m long buses will have 34 seats and will be equipped with 422 kWh batteries.
Solaris Bus & Coach is to supply 10 Trollino 18 articulated trolleybuses under an €8m contract. Deliveries are scheduled to begin in September 2020. The 240 kW motor will be powered using overhead wires and 55 kWh traction batteries that would enable up to 11 km of off-wire running. These would be charged from the overhead wires.
The low-floor trolleybuses will have 47 seats and a built-in breathalyser to check the driver's sobriety before starting the vehicle. The vehicles will also be winterised for local conditions.
Keolis has a NKr3bn contract to operate bus and trolleybus services in Bergen city centre from 2020 to 2030. It is planning to purchase 40 buses powered by hydrotreated vegetable oil.