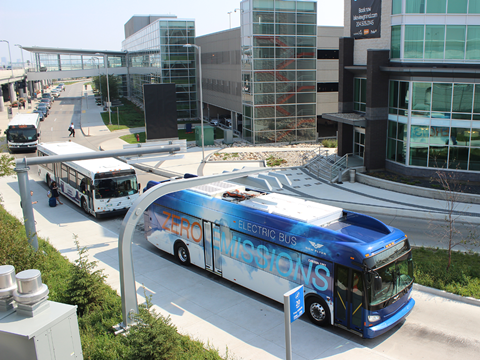 USA: Los Angeles County Metropolitan Transportation Authority has approved contracts for the supply of 95 electric buses for use on its two bus rapid transit routes.
BYD is to supply 12 m buses to be used on the Silver Line. The $45m contract covers 60 buses, spare parts and charging equipment.
New Flyer is to supply 18 m articulated buses to be used on the Orange Line. The $51·2m contract covers 35 buses and charging equipment.
The orders form part of Metro's goal to have an entirely electric fleet on the Orange Line by 2020 and on the Silver Line by 2021. Metro would like to convert its entire fleet of around 2 200 buses, the second-largest in the country, to zero-emission by 2030. More than 900 000 passenger-journeys are made on Metro's buses per weekday.
Metro's bus fleet is currently powered entirely by compressed natural gas. The agency has also approved a $64·4m contract for New Flyer to supply 18 m CNG buses. The 65 buses are due to enter service in 2018-22 and will replace buses purchased in 2004-08. In June Metro approved a $199·1m contract for the purchase of 295 12 m CNG buses from ElDorado National-California.
Metro has also approved a contract worth up to $26·5m for Cummins Engines to supply up to 395 'near zero emission' CNG engines for existing buses.