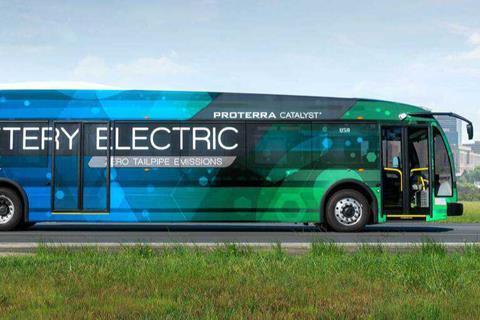 USA: Miami-Dade has agreed to purchase 33 Proterra Catalyst E2 battery-electric buses and up to 75 plug-in chargers.
'Florida is one of the most vulnerable areas in the country to climate change, and Miami is working tirelessly to lower its greenhouse gas emissions', said Mayor Carlos Giménez. 'Deploying battery-electric buses is one of the best actions we can take to improve our environment and our community's public health. We are looking forward to working with Proterra to deliver clean, quiet transportation.'
The county has set a target of at least 50% of its buses being electrically powered by 2035.
'Miami-Dade has shown exemplary leadership, embracing proven EV technology and planning for a scalable electric fleet implementation', said Proterra CEO Ryan Popple when the order was announced on October 7. 'Proterra's expertise in vehicle design, battery technology, charging systems and infrastructure installation best positions us to support Miami-Dade's transition to zero-emission transit vehicles.'