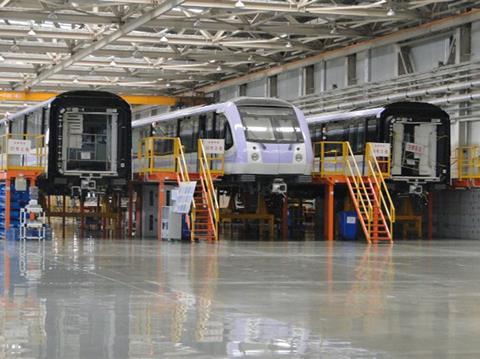 CHINA: CRRC Nanjing Puzhen Rail Transport Co announced on October 11 that it had been awarded three metro rolling stock contracts.
The joint venture of CRRC and Midas Holdings is to supply trains for the first phase of Wuxi metro Line 3 under an 890m yuan contract awarded by Wuxi Metro Group Co. Deliveries are due to take place between May 2019 and September 2020.
A 760m yuan contract from Xuzhou Rail Transit Line Two Investment & Development Co covers the supply of rolling stock for the initial phase of Line 2 in Xuzhou. Deliveries are scheduled from May 2019 to May 2020.
NPRT is also to supply additional rolling stock to operate on Line 1 of the Hangzhou metro. The 720m yuan contract from Hangzhou MTR Corp is due to be fulfilled between June 2018 and March 2021.