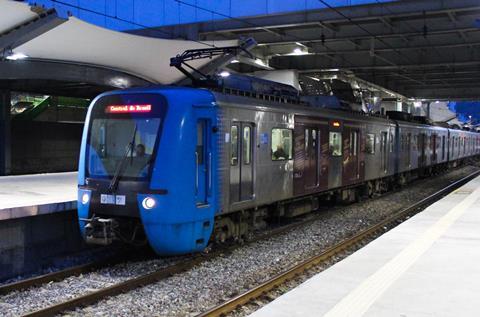 BRAZIL: Six more electric multiple-units returned to service on the SuperVia suburban rail network serving Rio de Janeiro on December 2, after being taken out of service in November because of traction equipment faults.
SuperVia withdrew 40 of its CRRC-built EMUs from service on November 18. The first 17 four-car sets returned to service on November 27, and the rest are due to re-enter service by January 17.
According to SuperVia, CRRC identified problems in the traction equipment, which it is now repairing in line with its warranty obligations. The trains are part of the second build of EMUs that CRRC has supplied to SuperVia. The 70 trains from this build entered service in 2014-16, following 30 trains supplied in 2012.
The withdrawal of 20% of SuperVia's fleet has caused serious overcrowding on the already heavily used network, with lengthened headways and short formations across several routes. The return of the first 17 trains has enabled the restoration of normal operations on services to Gramacho and Saracuruna in the north, as well as to Belford Roxo in the northwest.
Services to Santa Cruz, Japeri and Deodoro are still running at a reduced frequency, although trains to Deodoro are once again running as eight-car sets.