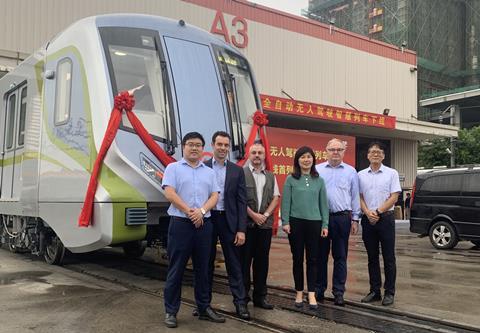 CHINA: The first of 49 driverless trains to operate on Shanghai metro Line 14 was officially rolled out by CRRC Nanjing Puzhen on September 3.
The eight-car Type A trainsets are equipped with Bombardier's Mitrac propulsion and control systems, being supplied by the Bombardier NUG Propulsion System Co joint venture under a contract awarded to local partner New United Group by Shanghai Shentong Metro Group in 2018. Covering propulsion and electric braking systems, auxiliary power supply, train control and other components, the order will bring the total number of Shanghai metro cars with Mitrac equipment to more than 2 000.
Running from Fengbang in the western district of Jiading to Jinqiao in Pudong, the 38·5 km Line 14 will have 31 stations. Expected to open at the end of 2020, the east-west route is intended to relieve the overloaded Line 2. The first heavy metro line in Shanghai to be designed for Fully Automated Operation to GOA4, it is being equipped with signalling and train control systems by the Thales SEC Transport joint venture of Thales and Shanghai Electric.