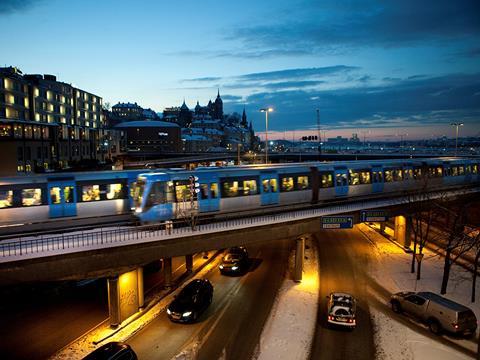 SWEDEN: Bombardier Transportation has demonstrated a silicon carbide Mitrac TC1500 traction converter on a Stockholm metro C20 trainset, as part of a research programme to investigate the potential for SiC devices to lower energy consumption and noise.
The programme supported by the Swedish Energy Agency was led by Bombardier and included metro owner Stockholm County Council, operator MTR, academic partner KTH Royal Institute of Technology and the RISE Acreo research institute.
The trainset ran in passenger service on the Green Line from December 2017 to March 2018. The SIC converter offers a 51% reduction in size and 22% reduction in weight, and achieved energy savings of up to 35% and 19 dB lower noise emissions.
Bombardier said SiC demonstrators were not new in the rail sector, but mainstream adoption would require products offering overall system benefits and the ability to integrate with existing equipment.