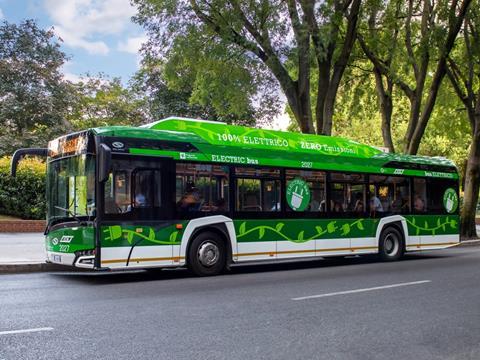 ITALY: Milano transport operator ATM has awarded a framework contract for the supply of up to 250 battery electric buses to Solaris.
Delivery of the base order of 40 buses is to begin in June 2020, and the contract would be worth €192m if all options are exercised.
Solaris will supply its Urbino 12 electric model. The 12 m long buses will be equipped with 240 kWh Solaris High Energy batteries that can be charged through an inverted pantograph at opportunity charging stations or using plug-in depot charging. They will power two electric motors of 110 kW each.
With capacity for 82 passengers including 26 seated, the vehicles will be equipped with air-conditioning, USB sockets, a passenger information system, CCTV and a rear-view driver's camera.
The order has been placed as part of ATM's goal of phasing out diesel buses by 2030. Solaris had previously supplied 25 electric buses to Milano.