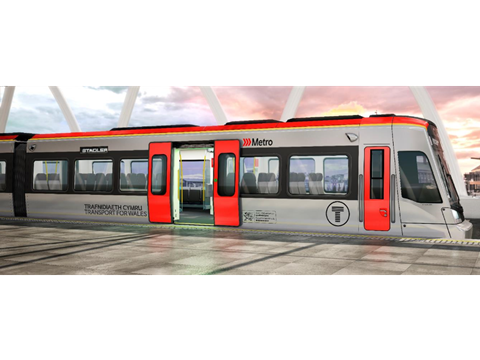 UK: Electrification of commuter routes radiating from Cardiff, new rolling stock fleets to operate them and new stations are envisaged under the 15-year Operations & Development Partner contract awarded by the Welsh government to KeolisAmey on June 4.
The contract to operate passenger services throughout Wales runs until October 16 2033. KeolisAmey is scheduled to take over operations from incumbent Arriva Trains Wales on October 14, having been selected as preferred bidder on May 23.
According to Transport for Wales CEO James Price, the contract is a cross between a traditional Department for Transport franchise and a more tightly controlled concession, as used in London and Liverpool.
The Core Valley Lines from Cardiff Queen Street to Treherbert, Aberdare, Methyr Tydfil, Coryton and Rhymney are to be operated electricity 'sourced from 100% renewable sources'.
Services from Cardiff to Merthyr Tydfil, Aberdare and Treherbert will be worked by a fleet of 36 three-car 'metro-style' Stadler Citylink trainsets equipped for 25 kV 50 Hz and battery power. These would be suitable for 'train-tram' operation, with a proof of concept pilot seeing the short branch from Cardiff Queen Street to Cardiff Bay extended on-street to Flourish.
Stadler is also to supply seven three-car and 17 four-car 'trimode' Flirt UK multiple-units capable of operation on diesel, 25 kV 50 Hz and battery power which will work the routes from Cardiff to Rhymney, Coryton, Penarth, Barry and the Vale of Glamorgan; these would operate on electric power north of Cardiff and diesel power to the south. Another 11 four-car Flirt DEMUs would also be used on South Wales Metro services.
The onboard batteries will permit discontinuous electrification, avoiding the substantial costs and disruption associated with installing OLE in 56 locations with restricted clearances.
The ODP also includes rolling stock for regional and long-distance services. TfW had initially planned to buy new rolling stock itself, but concluded that the low cost of private-sector financing would favour procurement by the ODP.
There are also plans for new stations to be built in Cardiff at Loudoun Square, Crwys Road, Gabalfa and Flourish. An extension of the Coryton line is envisaged to serve the proposed Velindre hospital.