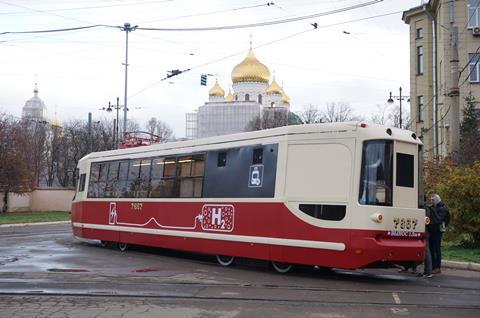 RUSSIA: Dynamic testing of a hydrogen fuel cell tram started on the St Petersburg network on November 1.
The retrofitted single-section LM-68M2 tram has been created jointly by operator Gorelektrotrans and the Central Research Institute of Electrical & Marine Technology. Its interior is divided into three parts: one for the fuel cell, one for the hydrogen tanks and one for technicians. Eight seats have been left in. The tram's maximum speed is limited to 10 km/h.
It is estimated that it would cost around 30m roubles to retrofit a tram if this were done on a larger scale. The estimated cost of enough hydrogen to provide 1 kWh would be 1·5 roubles, compared with 5·5 roubles for the equivalent in electricity that the operator currently pays.
Once testing is completed, the tram will be restored to its original state and returned to passenger service.