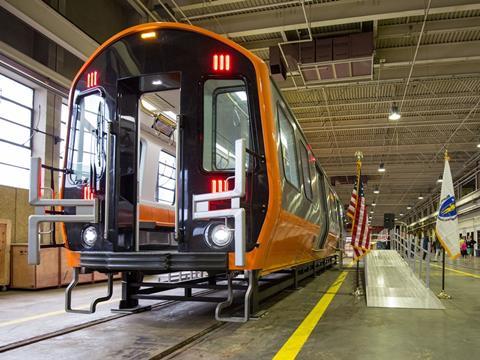 USA: The Senate has formally adopted measures which would see a one-year ban on any procurement from Chinese state-owned companies using Federal Transit Administration funding.
The ban is part of an amendment to a much larger package, which in turn forms part of the annual Transportation Appropriations for the 2019 federal budget. Running from the date of adoption of the legislation, the one-year ban would only apply to rolling stock and bus procurement. It includes wording to prevent the expansion of existing contracts through options, even if these had been finalised prior to the ban taking effect.
The Senate amendment reflects similar language already put forward by the House of Representatives for the 2019 Transportation Appropriation Bill, although that does not refer explicitly to China, but to entities 'owned, directed or subsidised by a country identified as a priority watch list country'.
Chinese rolling stock supplier CRRC has won several US contracts in recent years. These include the supply of metro trains for Boston, Chicago and Los Angeles, as well as double-deck coaches for use on Southeastern Pennsylvania Transportation Authority's Regional Rail network of commuter services. Final assembly for most of these trains is taking place in factories that CRRC has built or is building in Massachusetts and Illinois.
In the bus market, Shenzhen-headquartered BYD won a contract last year to supply electric buses to Los Angeles, and recently formed a joint venture with infrastructure financier Generate Capital to develop a $200m electric bus leasing programme.
Legislation is already in place which mandates that at least 65%, by value, of rolling stock must be domestically produced, including labour, for projects receiving FTA funding. In addition, final assembly must take place in the USA. The proportion is due to rise to 70% in the 2020 financial year.