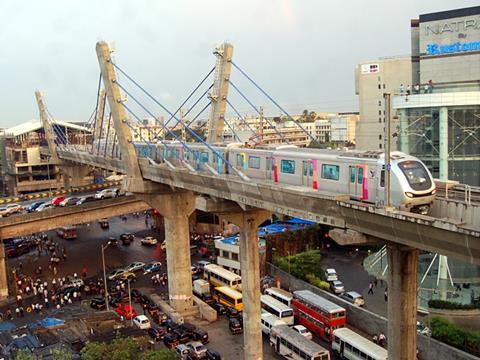 INDIA: Mumbai Metropolitan Region Development Authority approved the construction of two metro lines on November 20.
A 32 km line from Wadala in the south to Thane and Kasarvadavali in the north would be designated metro Line 4. there would be 24 underground and six elevated stations. Interchange would be provided with the monorail at Wadala and with metro Line 1 at Ghatkopar.
The other metro line approved was an extended version of Line 2. This would follow the original alignment from Mankhurd to Charkop via Bandra, with an additional section north from Charkop to Dahisar. The total length of the fully underground route would be 40 km, with 36 stations. Work on Line 2 has been suspended since 2012 owing to administrative difficulties.
Both lines are to be built in six to seven years. Construction cost is estimated at Rs191bn for Line 4 and Rs256·1bn for Line 2. Around 50% is to be funded through international loans, with 20% coming from the central government and 30% from the Maharashtra government.