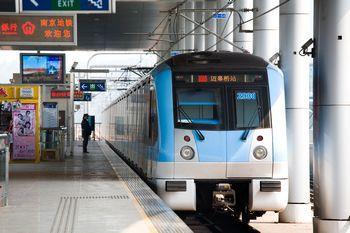 A CONSORTIUM of Nanjing CSR Puzhen Rail Transit, Alstom Transport and the SATEE joint venture of Alstom and Shanghai Electric Group has won a €85·5m contract to supply a further 126 trains for Nanjing Metro Line 1.
The partners will supply 21 six-car Metropolis trainsets for an 18 km southern extension of Line 1. Running between Andemen on the first phase of Line 1 and Chengdong Road, the extension will add 12 stations to the line when it opens in March 2010.
Alstom has a €25·5m share of the contract announced on January 25, being responsible for vehicle design and the validation of the first trainset. Puzhen is responsible for manufacturing and vehicle warranty, while SATEE will produce the auxiliary inverter and traction equipment. The cars are scheduled to be delivered by 2011.
The consortium previously supplied 120 Metropolis cars for the first phase of Line 1 which was inaugurated in September 2005. A €120m order for 144 vehicles for Line 2 was placed in April last year (RG 6.07 p332).
---
Railway Gazette's Metro & Light Rail Projects spreadsheet contains details of tram, light rail and metro construction proposals and current projects around the world.