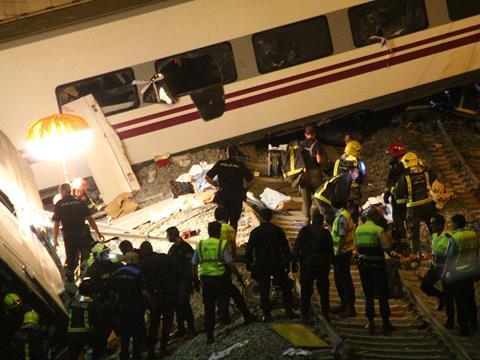 CC-BY-2.0/Wikimedia Commons)" src="https://d1c4d7gnm6as1q.cloudfront.net/pictures/web/import/pics/tn_es-santiagodecompostela-crash-credit-contando_estrelas_ccby2.jpg?w=660" />
SPAIN: At 20.41 on July 24 a Madrid - Ferrol Alvia service derailed on a curve on the approach to Santiago de Compostela. Formed of a Class 730 gauge-convertible electro-diesel Talgo trainset, the 15.00 from Madrid was carrying 218 passengers, according to a joint statement from Spanish train operator RENFE and infrastructure manager ADIF.
The train had 12 vehicles, with an electric and a diesel power car at the ends. The rear power cars appear to have caught fire after the impact, and one of the intermediate coaches was thrown up on to an adjacent road; other cars rolled over or struck a retaining wall. Reports on July 25 indicated that 79 people had died in the accident with many more injured.
The train had left the high speed alignment and should have been slowing in preparation for the stop at Santiago station, about 3 to 4 km from the site of the accident. The speed limit on the curve is understood to be 80 km/h, but Spanish media reported that the train driver had said over the train radio that the train had been travelling at 190 km/h. A video taken from a lineside security camera appeared to show coaches behind the front power cars derailing first, pulling the heavier leading vehicles over as the train rounded the curve.
Whereas Spain's high speed standard gauge lines are equipped with ERTMS, Spanish media suggested that this section of the route which had opened in December 2011 was fitted only with the standard Spanish ASFA train warning equipment.