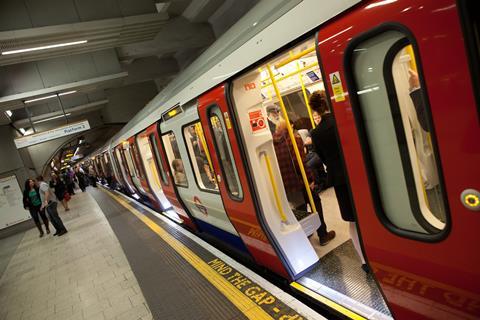 UK: Transport for London announced on July 28 that its extraordinary funding agreement, which was due to expire the same day, had been extended until midday on August 3, to give it time to discuss the government's draft proposal for a long-term funding settlement.
Mayor of London Sadiq Khan said the latest extension was necessary because the government had shared the 'long overdue' draft proposal late on July 22, 'and it's right that time is taken to thoroughly scrutinise the offer and understand its impact on Londoners and TfL services'.
Khan said 'it is in no one's interest to have conditions attached to this funding deal that come at a cost — damaging TfL, unfairly punishing Londoners and our economic recovery'.
London's Transport Commissioner Andy Byford said 'we have previously set out that we would need £927m for the remainder of this year, as well as a long-term capital funding deal to support London's economic recovery. We are considering whether the proposal from government meets that need and if not the very difficult set of choices we would need to make.
'There are some significant issues we need to discuss with the government in terms of deliverability and the need to avert managed decline of the capital's transport network in both the short and longer terms. We hope these discussion can be concluded successfully soon.'
Transport for London government support agreements resulting from the coronavirus pandemic
Start
End
Support
May 15 2020
October 17 2020
UK government agrees the first funding package, an extraordinary support grant of £1·095bn and a loan of £505m to support continuity of operations at TfL
October 18 2020
October 31 2020
Higher than anticipated ridership means the existing package is sufficient for a two-week extension, agreed on October 16 2020
October 18 2020
March 31 2021
H2 package agreed and backdated: government approves an extraordinary support grant of £905m, and incremental borrowing by TfL of £95m
April 1 2021
May 18 2021
H2 package extended to cover the period of the elections for the Mayor of London
May 18 2021
May 28 2021
H2 package extended by a further 10 days, with a payment of £65m and a top-up grant available based on actual passenger revenues
May 29 2021
December 11 2021
Third funding package; the six-month H3 deal reached on June 1 provides an extraordinary support grant of £1·08bn, with top-up grants if revenues are lower than forecast and TfL repaying any excess; this provides TfL with certainty that it will receive revenues of £1·78bn on top of the £1·08bn grant
December 11 2021
December 17 2021
Funding Package is extended; terms amended to define the funding period as May 29 2021 to December 17 2021.
December 18 2021
February 4 2022
Further extension announced on December 17 2021.
February 4 2022
February 18 2022
Further two-week extension agreed on February 4. Provisions remain materially the same, including the top-up grant mechanism.
February 18 2022
February 25 2022
One week extension announced on February 21 after Transport for London asked for time to consider a funding deal proposed by the government.
February 26 2022
June 24 2022
Fourth funding package.
June 25 2022
July 23 2022
H4 package extension announced on June 24.
July 23 2022
July 28 2022
Further extension announced on July 13.
July 28 2022
August 3 2022
Further extension announced on July 28, to give TfL time to discuss the government's draft proposal for a long-term funding settlement.