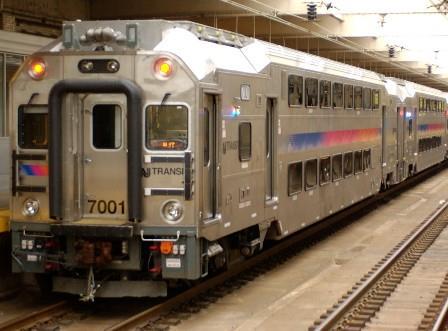 USA: A firm order for 113 double-deck EMU cars was approved by the NJ Transit board on December 12. A base contract will be placed with Bombardier Transportation for what the commuter rail operator claims will be 'the first self-propelled multilevel railcars in the USA'.
The contract is valued at $670m plus contingencies and covers a base order for 58 powered vehicles, 33 driving cars and 22 trailers of which six will have toilets. Branded Multilevel III by NJ Transit, the trains will primarily replace the single-deck Arrow III EMUs, which are the oldest trains in the fleet, dating from the late 1960s. Tenders for the 113 EMU cars were called in November 2017.
The Multilevel III EMUs are scheduled to begin testing in the third quarter of 2022 to enter revenue service during the second quarter of 2023. Running in 12-car formations, the trains will have 1 552 seats compared to 1 380 seats on a 12-car Arrow III. As with the existing double-deck cats, the new vehicles will feature a 2+2 interior saloon layout, rather than the 2+3 bench seats of the Arrow IIIs. Other amenities will include USB charging ports for customers and enhanced onboard information displays.
In addition, NJ Transit has agreed options with Bombardier for the supply of up to 636 more Multilevel III cars to replace its remaining single-deck vehicles and accommodate future growth. The operator has a strategic objective of reducing its overall average fleet age to less than 30 years.
'The new self-propelled multilevel cars break new ground in railroad technology and we're proud that NJ Transit is leading the way', said NJ Transit Executive Director Kevin Corbett. 'With this investment, we'll be able to retire the oldest rail cars in our fleet, while increasing reliability, efficiency and customer comfort.'