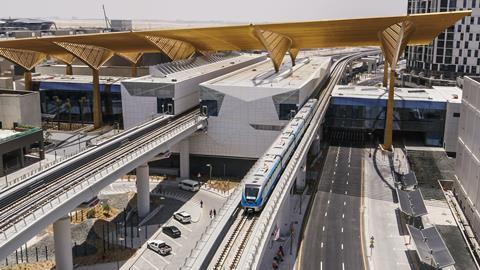 UAE: 'This is an exciting day for us', Keolis Group's International CEO Bernard Tabary told Metro Report International when a Keolis-MHI joint venture took over the operation and maintenance of Dubai's driverless metro and tram networks on September 8.
The contract awarded by the emirate's Roads & Transport Authority on January 31 provides for an initial nine years of operation with three optional two-year extensions.
Keolis-MHI replaces Serco, which has run the metro since the first section opened in September 2009.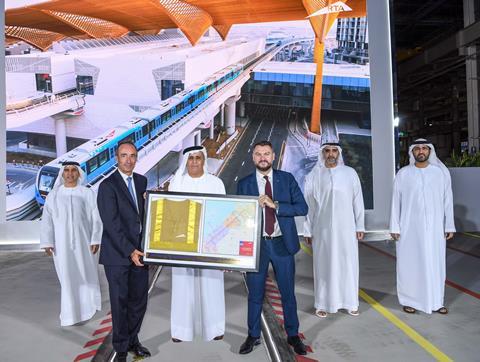 Keolis holds a 70% stake in the joint venture, alongside Mitsubishi Heavy Industries Engineering (25%) and Mitsubishi Corp (5%), who have been involved with the development of the driverless Red and Green lines since 2005.
The handover was marked by a ceremony at Al Rashidya depot, where Tabary was joined by RTA Chairman & Director-General Mattar Al Tayer, Mitsubishi Heavy Industries' Chief Regional Officer for Europe, Middle East & Africa Kentaro Hosomi, and Wallace Weatherill, Managing Director of Keolis-MHI.
Following the opening of the Route 2020 branch serving the Expo 2020 venue, the Dubai metro network now totals 90 route-km including 15·8 km in tunnel, and serves 53 stations. Equipped for Grade of Automation 4 using Thales CBTC, it is operated by a fleet of 79 Kinki Sharyo trainsets delivered by Mitsubishi in 2005-09 and 50 Metropolis trains supplied by Alstom.
The 10·6 km tram line with 11 stops opened in 2014; it is worked by 11 Alstom Citadis trams and uses an APS ground-level power supply for catenary-free operation.
Great expectations
Keolis-MHI will be responsible for the operation and maintenance of all metro and tram network assets, from trains and control centres to stations and associated infrastructure, as well as the fare collection systems.
The gross-cost contract means that RTA retains the revenue risk, but Tabary said the agency had strong expectations around 'customer happiness, which is more than passenger satisfaction, and goes well beyond just cleanliness and punctuality'.
The contract includes 'a multitude of KPIs' relating to security and safety 'above everything else' as well as demanding performance and availability targets. According to Tabary, punctuality currently stands at 99·7%.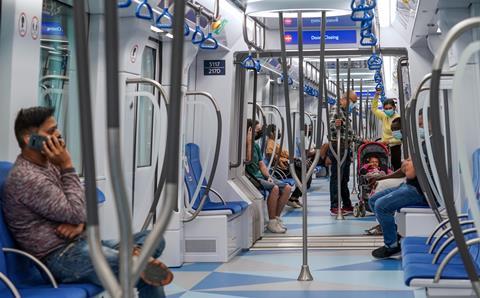 Keolis-MHI has 1 850 employees, around 95% of whom have transferred from the incumbent operator in line with RTA stipulations, and Tabary said Serco had been 'extremely professional' about ensuring a smooth handover during the seven-month transition process. The total workforce includes around 1 000 operations and customer service staff for the metro, 700 maintenance staff and 150 for the tram network, he explained.
Tabary said the joint venture would be looking to combine the knowledge of automatic metro operations built up in Dubai over the past 12 years with experience around the world, drawing staff from Keolis operations in the UK, France, Australia and North America, as well as the automated metros in Hyderabad and Shanghai.
Looking forward to the opening of the six-month world fair on October 1, Tabary said Dubai was expecting 'millions of visitors' to use the brand new Expo 2020 station, which had been 'very well designed, like a brand-new airport'. He believed the metro would play a major role in ensuring the success of the event.
Beyond that, he said, the emirate had set ambitious objectives for 2030 and 2040 and RTA was looking for Keolis-MHI 'to help the metro grow to new levels'.
Noting that Keolis-MHI must also manage the ageing of infrastructure and rolling stock in a very challenging climate, Tabary emphasised the importance of a good maintenance regime. 'We are delighted to be working with Mitsubishi Heavy Industries, who delivered the original fleet from 2005', he commented, noting that the joint venture would be able to bring blend of Japanese, French and international cultures to the contract, in the same way that Keolis works in partnership on other contracts 'where it adds value'.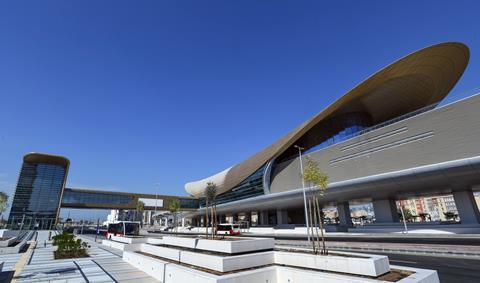 Backbone of transportation
Pointing out that the metro 'currently constitutes the backbone of transportation in Dubai', Al Tayer said 'the huge successes of the Dubai Metro have gone far and wide beyond the scope of the emirate. The metro has embellished the global profile of Dubai as a superior business hub and a key destination for an exceptional quality of life.'
'We are very excited to begin operating Dubai's world-class metro and tram networks in collaboration with MHI and MC', said Keolis Group CEO Marie-Ange Debon. 'Our shared goals bring us together: meeting the highest safety standards, delivering the very best passenger experience to Dubai's residents and visitors and moving towards a smart and sustainable future. We share RTA's Smart City Vision, which sees smart mobility as the answer to a more efficient transport system and a more vibrant city. And we look forward to accompanying RTA on this exciting journey to make the city safer, cleaner and more attractive.'