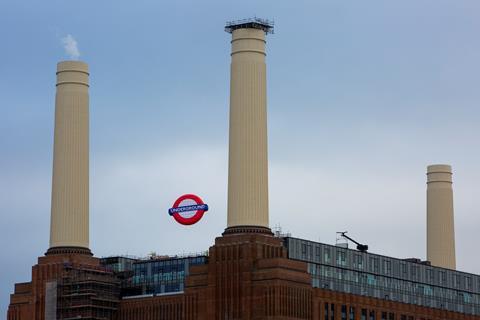 UK:·A 3·3 km two-station branch of London Underground's Northern Line to serve the Nine Elms and Battersea Power Station redevelopment area opened on September 20.
'This extension will hugely improve the links between these vibrant, growing south London neighbourhoods and the rest of the capital, and will also help to support thousands of new jobs and homes as we move forward with London's recovery from the pandemic', said Mayor of London Sadiq Khan. 'The new stations are beautiful and I encourage Londoners and visitors to start using the Northern Line Extension to get around and help them enjoy everything the capital has to offer.'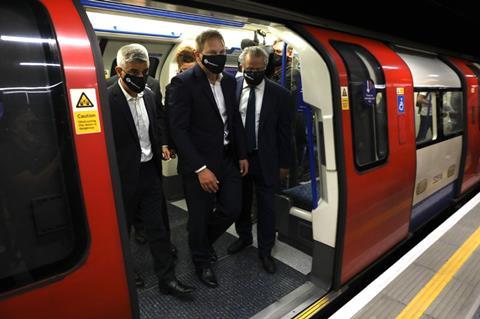 The extension has twin 5·2 m diameter tunnels starting from a step-plate junction with the existing Northern Line at Kennington. It is the first expansion of the London Underground since the spur to Heathrow Airport's Terminal 5 opened in March 2008, and the first major route extension since the Jubilee Line to Stratford in 1999.
Ferrovial Agroman Laing O'Rourke was awarded a design and build contract in 2014, and major construction works began in 2015.
The estimated final total cost is put at £1·1bn, which Transport for London said was £160m under the increased budget agreed in January 2016 despite cost pressures resulting from the pandemic.
The first £1bn was paid upfront by the Greater London Authority, with the European Investment Bank providing a £480m long-term loan. Under an agreement between the government, the Mayor of London, property developer Battersea Power Station Development Co and Wandsworth and Lambeth councils the GLA's funding is being repaid by the private sector through developer contributions and incremental business rates from new commercial developments within the Nine Elms Enterprise Zone, which started in April 2016 for an assumed period of 25 years. Costs above £1bn are being covered by TfL.
Services
The extension is operated as part of the Charing Cross branch of the Northern Line, with six trains/h in the peaks and five trains/h off-peak.
This is scheduled to double to 12 and 10 trains/h in 2022 as people move into new housing in the area and demand increases.
Stations
The two stations are constructed primarily from stone, concrete, stainless steel and glass, with double-height ceilings to create large airy spaces and step-free access from street to train.
The station at Nine Elms is intended to have a 'very visible' presence on Wandsworth Road, serving developments including the US embassy and the redeveloped New Covent Garden Market. There is provision for 479 rental homes to be developed above and around the station.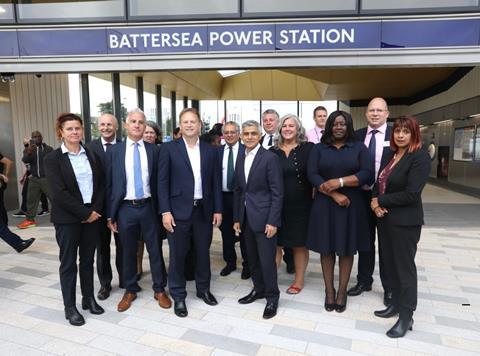 Battersea Power Station station includes a gold-painted geometric roof with a giant skylight. It opens onto Battersea Park Road and is designed to have a prominent position within the Prospect Park community space which is scheduled to open next year.
A permanent artwork by Brazilian artist Alexandre da Cunha called 'Sunset, Sunrise, Sunset' stretches over 150 m inside the ticket hall, which covers 2 225m² — or, as TfL expresses it in traditional popular measurements while highlighting work to reduce emissions, '80 electric double-decker buses side-by-side'.
Northern Line Extension timeline
2008
First public consultation on the principle
2010
NLE included in the consultation draft Mayor's Transport Strategy
2012
Vauxhall Nine Elms Area Planning framework published, highlighting the homes and jobs that could be delivered with the NLE project
2013
Public inquiry
2014
Secretary of State grants Transport & Works Act Order (November). Design-build contract awarded to Ferrovial Agroman Laing O'Rourke.
2015
Start of major construction works with a groundbreaking ceremony on November 23.
2017
NFM Technologies tunnel boring machines named after astronaut Helen Sharman and aviatrix Amy Johnson launched at Battersea (March) and break through at Kennington (November)
2018
Tunnelling undertaken for passageways linking platforms at the existing Kennington station
2019
Track installation completed, and an engineering train travels the length of the extension (June)
2020
Power supplied to stations (November). Dynamic testing begins (December)
2021
Trial running begins (July); start of passenger services (September 20)