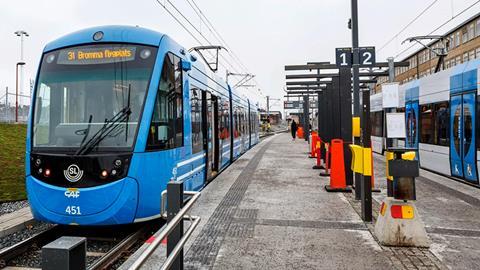 SWEDEN: The first phase of an 8 km northwestern branch of Stockholm's Tvärbanan light rail line was opened for revenue service on May 16.
Diverging from the orbital Sikla – Solna Tvärbanan at Norra Ulvsunda, the branch bridges over Ulvsundavägen runs 1·3 km northwest to Bromma Flygplats with one intermediate stop. It is initially being served by a single tram shuttling back and forth from Alviks Strand every 15 min. The orbital service previously branded as route 22 has been renumbered as route 30, while the branch has become route 31.
Under construction since February 2018, the first phase of the branch as far as the city's domestic airport was completed in November 2020, following a blockade in the summer to install the junction and remodel the track layout between Norra Ulvsunda and Karlsbodavägen. The stop at Norra Ulvsunda stop has been rebuilt with accessible platforms for convenient interchange and a reversing track has also been installed.
Future phases will see route 31 extended north and then east to the suburban station at Helenelund via interchanges with the metro Blue Line at Rissne and Kista. According to regional transport authority SL, the second stage as far Ursvik is expected to open in 2022, with the line reaching Helenelund by the spring of 2023.