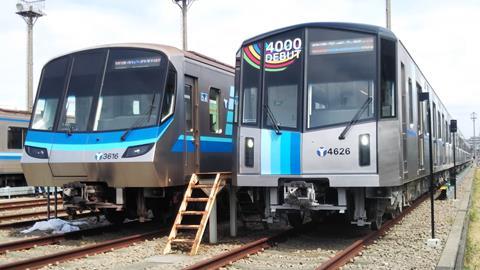 JAPAN: The first of eight Series 4000 trains being supplied to operate on the Yokohama Municipal Subway's Blue Line was unveiled at Kaminagaya depot on March 30.
Scheduled to enter service from May 2, the six-car sets are intended to replace the Series 3000A trains dating from 1992. These are the oldest of the 37 Series 3000 units currently deployed on the 40·4 km 1 435 mm gauge line.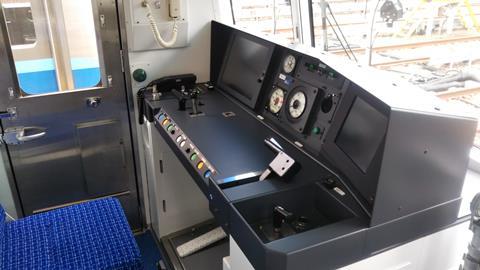 Yokohama City Transportation Bureau initially ordered seven trains from Kawasaki Heavy Industries in October 2018 at a cost of ¥6·9bn, with a provisional designation of Series 3000V. They are being assembled at the manufacturer's Hyogo Works in Kobe; five sets are expected to enter service in 2022 and the remaining three in early 2023.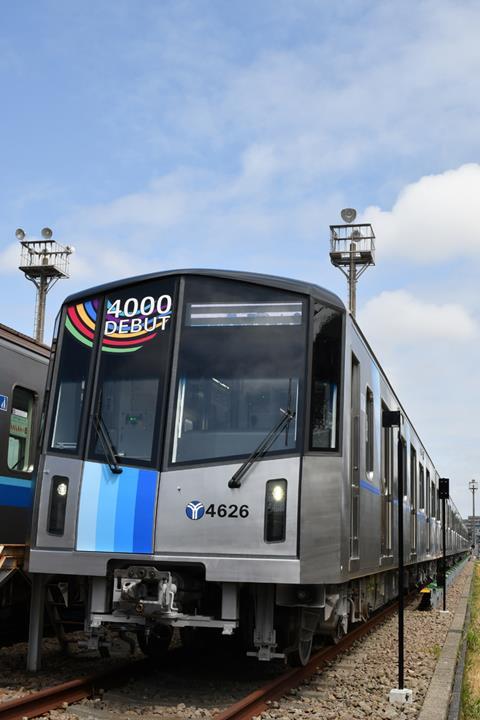 The stainless-steel bodied vehicles are 18 m long and 2 760 mm wide. Each train can carry up to 524 passengers, including 258 seated. The six car sets are formed of two driving trailers and four power cars, each of which has four 140 kW three-phase asynchronous motors and a VVVF inverter traction package with full regenerative braking. The bolsterless bogies have pneumatic suspensions and 860 mm diameter wheels. This gives a maximum acceleration rate of 0·9 m/s2 and a service deceleration of 1·0 m/s2 increasing to 1·25 m/s2 with full emergency braking.
Dignified design
According to the operator, the design of the Series 4000 has 'a dignified appearance and a sense of speed', based on the concept of 'advanced seaside urban feeling' and the image of Yokohama. The leading vehicles have a profile 'that emphasises flat and straight edges as a whole', while retaining the family likeness of the existing Blue Line fleet.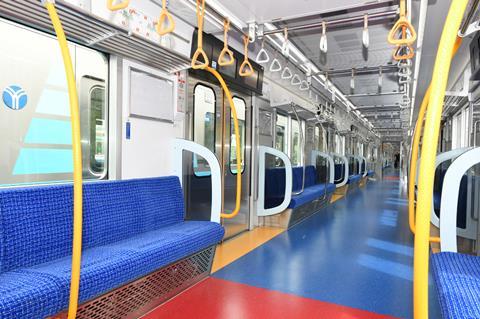 Internally, the trains have blue flooring and grey wall panelling, with the doorways picked out in yellow. The accessible seating and wheelchair areas are highlighted with red floors and white walls.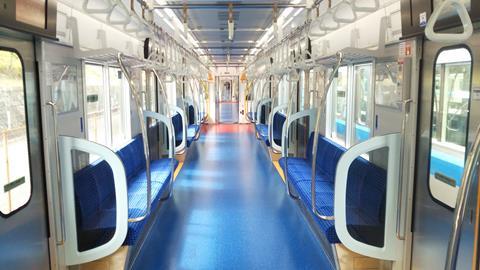 Seat width on the longitudinal seating has been increased from 470 mm to 480 mm, while the seat covering materials have been revised. The bulkheads and handrails at the ends of each seating bank have been reconfigured to improve comfort for both seated and standing passengers. Additional handrails have been provided in the wheelchair spaces, which can also be used for prams and pushchairs. To improve security, three CCTV cameras are installed in each car, while the inter-car doors have glazing with a pattern inspired by images of Yokohama.