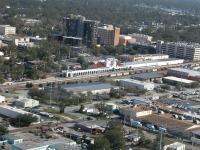 USA: Construction of the SunRail commuter rail route through Orlando officially began on January 27 with a ceremony at the site of the Altamonte Springs station to mark the start of work on the $357∙2m Phase 1.
Florida Transportation Secretary Anath Prasad was joined by Congressman John Mica, Congresswoman Corinne Brown and FTA Regional Adminstrator Dr Yvette Taylor, as well as local funding partners. Prasad said the event marked 'not just the beginning of construction, but the beginning of a new chapter in transportation in Orlando and central Florida.'

The 50 km SunRail route from DeBary to Sand Lake Road in Orange County serving 12 stations is scheduled to open in 2014. The federal government is contributing 50% of the cost through a $178∙6m grant announced by Transportation Secretary Ray LaHood in July 2011, with the remainder shared equally between the state and local authorities.
As well as station construction, the Phase 1 works include double-tracking the former CSX line, resignalling and construction of an operations control centre. MotivePower is to supply seven diesel locomotives for $17•5m, and Bombardier will provide 14 push-pull BiLevel coaches for $30m. Trains will run every 2 h off-peak, and every 30 min in the peak.

The second phase of SunRail would extend the service north to DeLand and south to Poinciana bringing the line to 98 km and adding a further five stations.