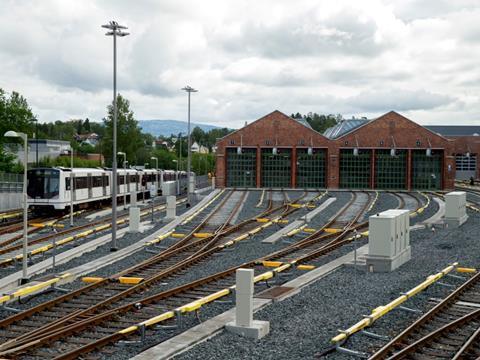 NORWAY: Metro infrastructure owner Sporveien Oslo has commissioned all four sheds at the Avløs depot on Line 2, marking the end of the 10-year Kolsåsbane project. This also included infrastructure upgrades on the line linking the city centre with Kolsås in the western suburbs.
The previously disused depot has been expanded, with full train cleaning and maintenance facilities now in place for the Siemens MX trainsets stabled there.
Under a contract awarded in 2013, Siemens Rail Automation has supplied its Trackguard Westrace Mk2 interlocking and signalling system, which the company says is its first application in Scandinavia. Frauscher has supplied its Advanced Counter interface for axle counters. Along with signalling for the rest of the metro, this is controlled from Tøyen in the city centre using Siemens' Controlguide Westcad traffic control technology. A local Controlguide Westcad system has been installed in the depot, and Siemens has also installed two DC substations.
The next metro infrastructure project to be completed will be the Lørenbane underground link between Sinsen and Økern, with an intermediate station at Løren. This is due to open in April 2016.