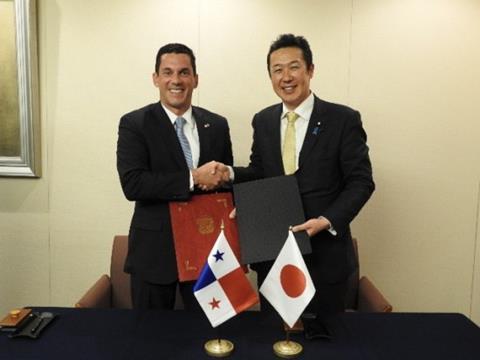 PANAMA: Deputy Foreign Minister Luis Miguel Hincapié and the Japanese Parliamentary Vice-Minister for Foreign Affairs of Japan Hitoshi Kikawada signed a technical and financial co-operation agreement for the construction of Panamá City metro Line 3 on January 14.
Details of the agreement are due to be finalised during the visit to Japan of President Juan Carlos Varela in the first half of 2016. The memorandum currently specifies the use of 'high-quality Japanese technology' to build a 26·7 km monorail line with 14 stations. The Japanese government is to consider favourably whether to provide technical assistance through JICA.
The first phase would be the eastern section, connecting Albrook with Nuevo Chorrillo via Arraiján. This would be 17·5 km and would carry up to 20 000 passengers per direction per peak hour. Services would be operated with six-car sets. The second phase would extend the line from Nuevo Chorrillo to Ciudad del Futuro.