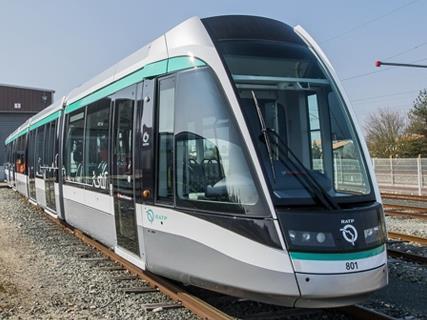 FRANCE: Paris tram Route T8 entered service on December 16, following four weeks of trial running without passengers.
The 8·5 km route runs north from Saint-Denis Porte de Paris to Delaunay-Belleville, where it splits into two branches, terminating at Villetaneuse-Université and Epinay-Orgemont. There are 17 stops, and interchange is provided with metro Line 13, tram Route T1 and RER Line C. Villetaneuse-Université will offer interchange with the future Tram-Express Nord tram-train route.
Peak frequencies are 6 min on each branch, combining to give 3 min headways between Saint-Denis Porte de Paris and Delaunay-Belleville. RATP forecasts ridership of 55 000 passengers/day.
Services are operated with a fleet of 20 100% low-floor Alstom Citadis trams ordered in April 2013 as an option on 19 trams for Route T7. The five-section trams are 32 m long and 2 400 mm wide with capacity for 200 passengers. They feature air-conditioning, CCTV, a passenger counting system and audiovisual passenger information. The cars were assembled at Alstom's La Rochelle factory, with motors from Ornans, bogies from Le Creusot, traction equipment from Tarbes and electronics from Villeurbanne.