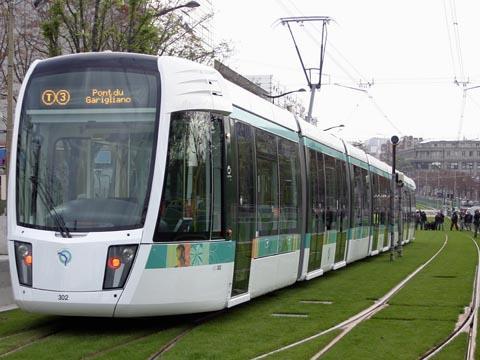 FRANCE: Initial public consultation is being undertaken until February 21 on plans for a further extension of tram route T3 in Paris. With the extension to Porte d'Asnières due to open at the end of 2017, local residents are now being invited to comment on options for extending T3 further westwards to Porte Maillot or Porte Dauphine.
The 2 km extension from Porte d'Asnières to Porte Maillot would have three intermediate stops, with two alternative surface alignments out to consultation. Two alternative alignments are also proposed for the extension to Porte Dauphine, adding a further 1 km and two stations, crossing the road junction at Porte Maillot in tunnel or on the surface.
The extension would provide interchange with metro Line 3 at Porte de Champerret, Line 1 at Porte Maillot and Line 2 at Porte Dauphine. Interchange would be provided with RER Line C at Neuilly-Porte Maillot and Avenue Foch, and with the future extension to Line E at Porte Maillot.
Depending on the selected alignment, the cost of the T3 extension is estimated at between €102m and €245m, excluding rolling stock. The project would be funded by the city of Paris, regional transport authority STIF, central government and the Ile-de-France region.