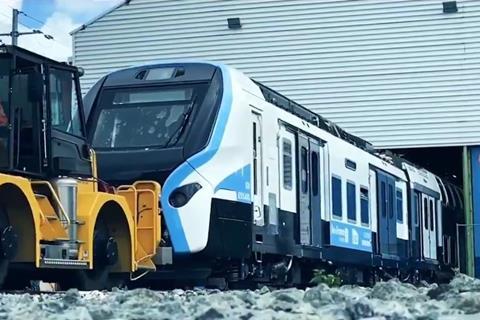 FRANCE: The first of 255 double-deck EMUs being built by Alstom and Bombardier for Paris RER lines D and E has been completed, and is expected to start testing shortly, Île-de-France Mobilités announced on October 18.
The regional transport authority has committed to a complete replacement of the fleets used on both routes, with the first trains expected to enter service in 2021. Five pre-series trainsets are due to be completed this year for the testing programme.
Designated X'trapolis Cityduplex by Alstom, the RER Nouvelle Génération EMUs will be delivered in two variants. On behalf of IDF Mobilités, SNCF placed a framework contract in January 2017 valued at €3·75bn, covering the supply of 125 six-car sets of 112 m for RER Line D and 130 seven-car units of 130 m for Line E. An initial firm order worth €1·55bn covered the first 71 trainsets to replace the current Z2N EMUs on Line D.
The contract provides for the four motor vehicles in each EMU to be assmbled by Alstom and the intermediate cars by Bombardier. The trains are being manufactured at the companies' Petit-Fôret and Crespin plants in Valenciennes.
All of the RER NG units will be equipped with the NExTEO communications-based train control system that will initially be installed on the central section of Line E. The fleet renewal is being co-ordinated with construction of the western extension of Line E, which is expected to reach Nanterre in 2022 and Mantes-la-Jolie in 2024.
#RERNG : Naissance d'un train🚆! 2 ans et demi seulement après le démarrage du projet, une première rame d'essai du futur RER d'@iledefrance entame le long parcours des essais. Des photos de l'avancée du projet seront régulièrement partagées. En savoir + : https://t.co/7VaBtYlQlW pic.twitter.com/R9o4nOb4pS

— IDF Mobilités (@IDFmobilites) October 17, 2019