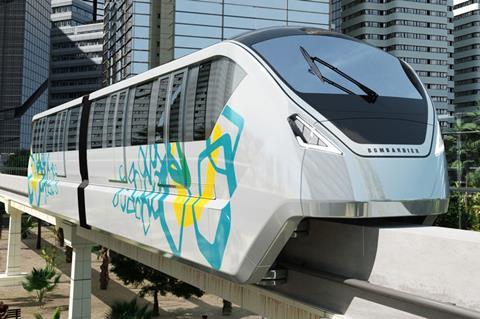 EGYPT: Bombardier Transportation's factory at Derby in the UK is to go ahead with the production of 70 four-car Innovia Monorail 300 trainsets for two lines being built in Cairo, after the British government confirmed a £1·7bn export finance guarantee.
In August 2019 a Bombardier-led consortium including Orascom Construction and Arab Contractors was awarded a US$4·5bn contract to design, build and operate the 54 km New Administrative City – east Cairo and 42 km October 6 City – Giza monorail lines, including 30 years of operation and maintenance from the planned opening in 2023.
Bombardier's US$2·85bn share includes the supply of E&M systems including Cityflo 650 signalling, communications, an operations control centre, platform screen doors, a fare collection system, power supplies and depot equipment.
Financing package
The guarantee announced on January 20 is the largest that UK Export Finance has provided for an overseas infrastructure project.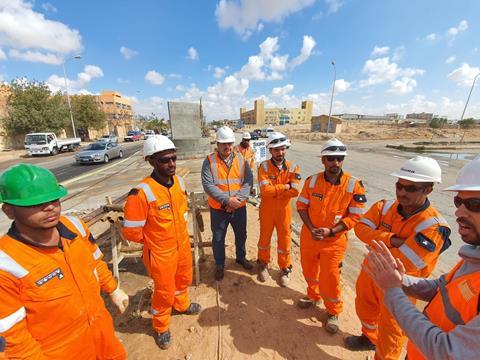 'One third of our economy is exports', said International Trade Secretary Liz Truss. 'That's why support from our export credit agency is vital. It can help the UK get a bigger slice of the global economic pie.'
The buyer credit facility will be administered by JP Morgan acting as the initial mandated lead arranger and facility agent. Reinsurance support has been secured with the help of Italian export credit agency SACE and Spain's CESCE.
Law firm Ashurst advised JP Morgan and UKEF on the agreement with Egypt's National Authority for Tunnels, which manages the country's transport projects. Ashurst partner Tom Longmuir said the complex financing package had been brought to a successful close 'in testing market conditions'.
Derby factory investment
Bombardier Transportation will now invest in its Derby factory, directly supporting 100 jobs plus more in its supply chain.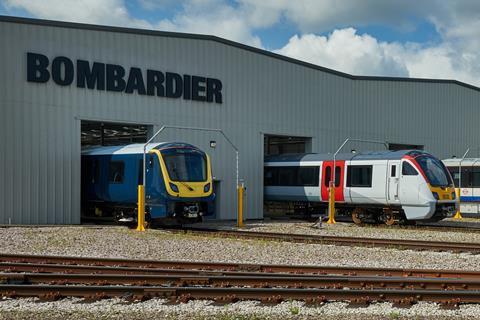 The order is the first large UK rolling stock export contract since the Derby factory supplied EMUs for South Africa's Gautrain project in 2008 — although bespoke suppliers including Clayton Equipment and Severn Lamb have won overseas orders — and Bombardier sees additional opportunities to increase exports using the new production line.
Matt Byrne, President of Bombardier Transportation UK & Ireland, said 'the Cairo monorail export win, against international competition, shows that the UK rail sector can fight and win in key growth markets such as sustainable transport.'
Huge potential to export
Commenting on the announcement, Neil Walker, Exports Director at the Railway Industry Association, said 'it is great to see rail companies with such strong commitment to the UK in terms of jobs and investment secure a major international rail project like this, with significant UK Export Finance support from the government.
'The UK rail supply industry has world-leading capabilities, exporting more than £800m a year in goods and services. There is huge potential to export to countries across the world, particularly as the UK negotiates free trade agreements with our global partners and there is real opportunity for UK rail suppliers to grow their exports and expand into these new markets.'