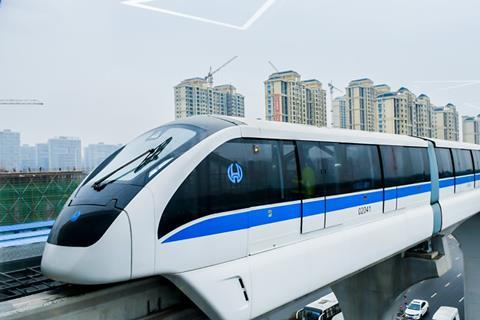 INTERNATIONAL: Monorails are 'comparatively small, but dynamically growing' section of the transport market worth more than €2bn/year, according to a study undertaken by consultancy SCI Verkehr for the International Monorail Association and presented at InnoTrans.
SCI Verkehr said monorail line-km has more than doubled over the past 10 years, with more than 80% being dedicated to public transport. The majority of projects under construction are in Asia, but countries including Brazil and Egypt are playing an important role.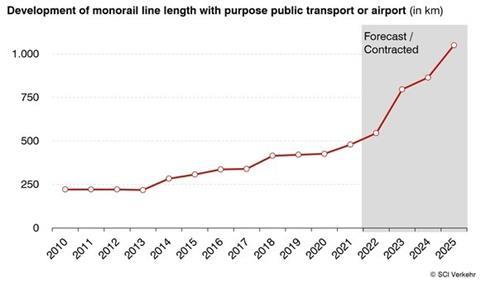 'Seven of the world's 10 largest metropolises have a monorail system — the means of transport is suitable both as a supplement to high-performance metro systems and as an alternative to metro or light rail systems in districts or destinations with medium traffic volumes', said Nicolas Wille, Project Manager & COO at SCI Verkehr.
'New traffic solutions are also possible due to the significantly simpler routing of monorail systems in demanding topographical or urban planning projects.'
IMA President Marko Kroenke said 'with 80 monorail systems in operation worldwide, monorails are an established and relevant system in public passenger transport, and the applications are growing strongly'.
IMA is developing a Performance Specification for a Turnkey Mass Transit Monorail System tool to enable customers to tailor a system to their specific transport needs. 'This specification document will help to further promote the application of monorails because it gives all stakeholders along the value chain orientation about the possibilities', said Kroenke.