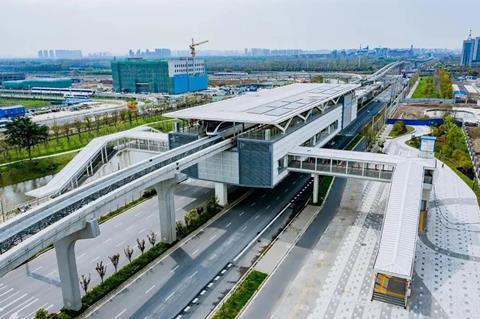 CHINA: Wuhu's first driverless straddle-beam monorail line opened on November 3, running 30·5 km north–south from Baoshun Road via Jiuziguangchang to Baimashan with 25 stations.
The National Development & Reform Commission approved the Wuhu Urban Rail Transit Phase 1 construction plan for 2016-20 in February 2016, with construction of lines 1 and 2 officially getting underway in December of that year.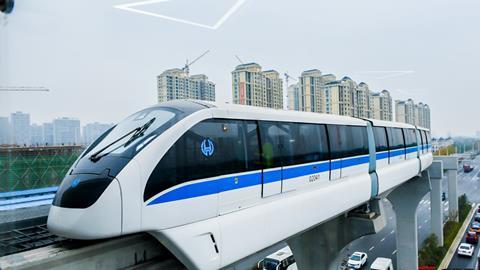 Both lines were designed by Wuhu Yunda Rail Transit Construction & Operation Co. In 2017 the CRRC Puzhen Bombardier Transportation Systems joint venture of Bombardier Transportation (now Alstom) and CRRC Nanjing Puzhen was awarded a 1·8bn yuan contract to build the lines and supply the rolling stock, followed this year by a 27-year operating and maintenance contract.
The 28 six-car Innovia 300 monorail sets for Line 1 are fitted with Bombardier NUG Propulsion System Mitrac traction equipment and equipped for GoA4 unattended automatic operation at up to 80 km/h. The Cityflo 650 signalling was supplied by Bombardier NUG Signalling Solutions.
Trial running on Line 1 started in September, and the line was certified for use on October 23. More than 40 000 people have been carried on test runs.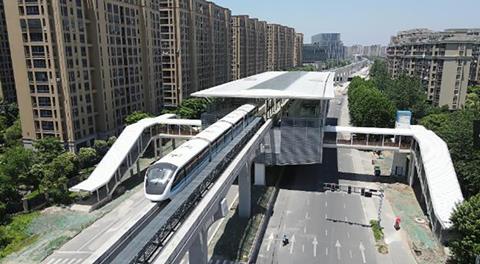 Phase 1 of Line 2 is expected to open by the end of the year, starting at an interchange with Line 1 at Jiuziguangchang and running 16·5 km east via Wuhu main line station and the Civic Centre to Wanchunhu Road, with 11 stations and 18 four-car trains. A western extension of Line 2 to Jiangbei is planned for opening in 2025.
The Wuhu municipal government's transport plan envisages the development of a network of five urban and four suburban lines totalling 284 km.
'Wuhu's new fully automated and driverless elevated monorail will be a game changer for residents, decreasing their commute time while also reducing congestion, pollution, and carbon emissions in the city', said Jianwei Zhang, President of Alstom China. 'It is an important part of Wuhu's ongoing efforts to redefine its urban transport to the benefit of its passengers and the environment.'