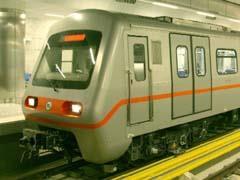 GREECE: Expressions of interest are due by January 30 for a €515m contract to extend Athens metro Line 3 to Piraeus. Following a decision by the Minister of Town Planning, Environment & Public Works, Attiko Metro cancelled its earlier EU tender and issued a new call for bids on November 21.
The procurement process had been delayed because some of the bidding consortia had filed legal challenges in an attempt to exclude their competitors. Although these had been rejected by the Greek courts, an appeal to the European Commission resulted in the adoption of contract interpretations which, according to Attiko Metro, would restrict the number of bidders and eliminate meaningful competition, resulting in legal deadlock. A second factor was the deletion of the proposed Evangelistria terminal station, following objections by local authorities that it would have been located opposite a home for the elderly.
The scope of the new tender includes detailed design, construction of civil works, and the supply, installation, testing and commissioning of electromechanical and rail equipment for an underground extension from Haidari to Piraeus. The 7·6 km line would serve six new stations at Aghia Varvara, Korydallos, Nikaia, Maniatika, Piraeus and Dimotiko Theatro.
An initial 4·3 km extension of Line 3 from Monastiraki to Egaleo was commissioned in May 2007, and work on the next 1·5 km from Egaleo to Haidari is making good progress. The tunnelling has been completed and work on the station is underway. This section is expected to be commissioned at the end of 2009.
… but the tram is on track
Meanwhile, work to extend the Athens tram network by 5·4 km from Faliro to Piraeus should be completed by 2010. The current 27 km network has 48 stops and the extension will add a further 12. Tenders for the extension and 25 new cars were expected to be called by the end of 2008. Total cost of the package is put at around €134m.
Operator TRAM SA, a subsidiary of Attiko Metro, currently has a fleet of 35 AnsaldoBreda Sirio cars to carry an average of 65 000 passengers/day, and the Piraeus extension is expected to attract an additional 35 000 to 40 000 riders, with services running every 6 min. Of the new cars, 10 are intended for the Piraeus route, and the rest for future extensions. Lines to Chatzikyriakeio and Freattyda are being planned, and further expansion to Keratsini, Perama and Drapetsona is under consideration.
The project also involves urban regeneration and infrastructure improvements similar to the environmental upgrades already implemented in Faliro, Glyfada and Voula. To minimise disruption caused by civil works in Piraeus, TRAM SA expects to use a rapid prefabrication method to accelerate construction.
In conjunction with the Athens Urban Transport Organisation, TRAM SA has launched a tender for a feasibility study for development of a tram network in Patras, and the company is in discussions with municipal authorities in Ioannina for trams in that city too.