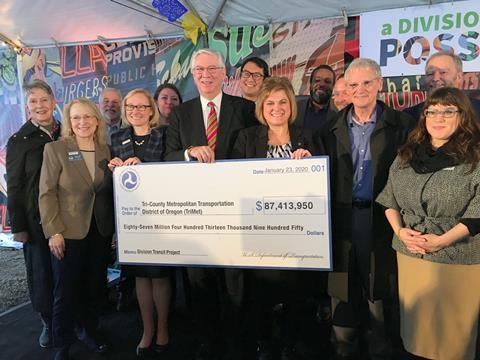 USA: The Federal Transit Administration has awarded grants totalling $4·55bn to 22 projects.
The FTA has granted $18m to various operators in Colorado for projects including the construction of of a bus maintenance facility in Denver and the purchase of a fleet of electric buses and charging stations for the City of Colorado Spring's Mountain Metropolitan Transit.
The grants also include financing for bus rapid transit routes in various states, including the $26·9m, 25·7 km Capital District Transport Authority line along the Hudson River Corridor in Albany, New York; a $16·6m, 20·7 km route to be developed by the Jacksonville Transportation Authority from the Convention Center and Florida State College in Jacksonville to the Orange Park Mall in Clay County; and a $84·7m, 24·1 km TriMet BRT line in Oregon from Portland's central business district to the city of Gresham.
The funding agreements are a part of the federal Department of Transportation's Capital Investment Grants. Since January 2017, the FTA has committed $7·6bn to 25 CIG projects across the country, with 20 of them implemented so far totalling $4·50bn in grants.