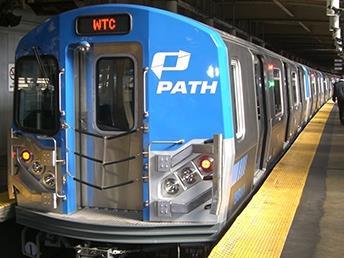 USA: The Port Authority of New York & New Jersey unveiled the PATH Improvement Plan on June 20. The proposals envisage capacity increases as well as measures to improve reliability and passenger experience on the metro network linking New York with New Jersey.
Capacity increases are to come from longer and more frequent trains. Trains on the Newark – World Trade Center line are to be lengthened from eight to nine cars. PANYNJ ordered 72 cars from Kawasaki Heavy Industries last year and these are expected to enter service in 2021-22. A total of $80m is to be spent on station modifications including platform lengthening.
PATH is investing $750m in signalling enhancements that are due to be completed by the end of 2022 and would enable 3 min peak headways. The operator expects that this would increase capacity by 20% on the Journal Square – 33rd St, Hoboken – WTC, and Hoboken – 33rd St lines, and by 40% on the Newark – WTC route.
In the shorter term, two more peak-hour services on the Newark – WTC and Journal Square – 33rd St routes are to be introduced from September to increase capacity.
The improvement plan also includes a delay reduction initiative to be implemented over the next 2½ years. This would address several 'key causes of delay':
track conditions;
points failures;
rolling stock failures;
signalling issues;
passengers taken ill;
unattended items.
PATH is to spend a total of $50m on these measures and on customer service initiatives. The latter aim to improve station, onboard and online announcements so that more detailed and timely information is provided. Station platform overcrowding is also to be addressed.
By 2022 ticketing is to be integrated with the OMNY account-based system that is being rolled out on services run by the New York Metropolitan Transportation Authority.
'Increasing the carrying capacity of a legacy rail system by 20-40% in a three-year period is almost unheard of, but PATH is making that commitment', said PANYNJ Executive Director Rick Cotton. 'We also recognise that the PATH system has been plagued by excessive delays. PATH's six-point delay reduction programme tackles this challenge head-on, with a commitment to deliver substantial and measurable improvements.'