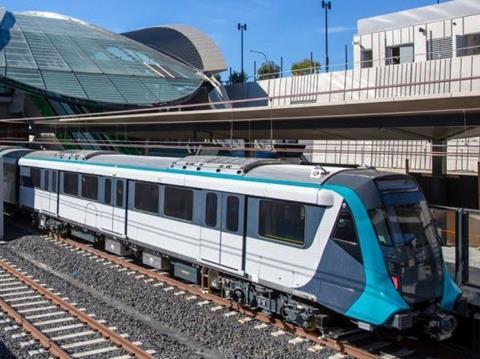 AUSTRALIA: Rail projects in Sydney and Parramatta are included in the 2019-20 New South Wales budget, which was presented on June 18.
The City & Southwest metro extension from Chatswood to Bankstown via central Sydney, which is expected to open in 2024, is to receive A$1·2bn in 2019-20. The budget also includes A$56m towards Sydney's planned second metro line, as part of a A$6·4bn package over the state government's four-year term. Construction on the line to Parramatta is expected to start in 2020, with the completion date to be confirmed once the final business case is ready.
The Parramatta light rail project is to receive A$561m as the first phase of a state government investment of A$1·8bn over its term. Major works are due to begin this year, and the 12 km route between Westmead and Carlingford is planned to open in 2023.
Suburban rail
Several suburban rail projects are also in the budget, with A$643m allocated for the 'More Trains, More Services' programme to increase services on Sydney's Illawarra, Airport and South Coast lines. This is to be achieved with the help of 41 eight-car Waratah 2 electric multiple-units being supplied by Downer EDI. The NSW government plans to contribute a total of A$3·2bn to 'More Trains, More Services' over four years.
The North South Metro Rail Link to serve the planned Western Sydney Airport at Badgerys Creek has been allocated A$207m for planning work. The NSW government expects to spend A$2bn on the project over its term, with the federal government contributing a similar amount. Construction is expected to start in 2021 and be completed in 2026 in time for the planned opening of the airport.
Plans to introduce eight more express services in the peaks on Sydney's T1 Western Line are to be funded through a A$3·4m budget contribution, which forms part of four-years package worth A$85m.
The Transport Access Program to improve accessibility at railway stations and ferry wharves is to receive A$334m as part of a A$885m four-year funding package. This will cover accessibility improvements at 68 railway stations, which the government says will make 90% of all public transport journeys in the state accessible for persons with reduced mobility.
Buses, cycling, walking
The budget allocates a total of A$1·9bn for bus services, which includes A$1·6bn towards regional and metropolitan bus services, school services and procuring vehicles. A further A$29m is to be spent as the first tranche of a A$131m four-year package that would fund 14 000 extra weekly bus services in Sydney, Illawarra and the Lower Hunter Valley. The state government intends to spend a further A$68m over its term to improve bus services in 15 provincial towns.
Walking and cycling infrastructure projects across the state are to receive A$57m as part of a A$256m four-year funding package.
The NSW government is also funding a reduction in the weekly cap on Sydney's Opal smart card. The A$17·7m item in the budget, part of a planned A$69·6m over four years, would enable a 20% reduction of the cap from July 1 to A$50 for adults and A$25 for concessionary fares.