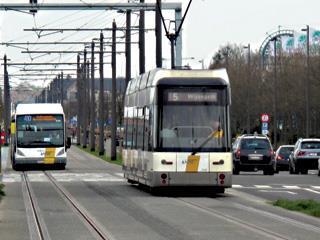 BELGIUM: Flemish Minister of Public Works Hilde Crevits inaugurated Antwerpen's first PPP-financed tram extension on April 14, driving the first of 13 new Hermelijn trams being supplied by Siemens and Bombardier which will bring the fleet to 125 cars.
Built at a cost of €48m, the 4 km of new route to Fortveld Wijnegem in the east of the city is served by extending Line 5 from Wim Saerensplein via Roggeveldlaan and Line 10 from Deurne via Turnhoutsebaan.
Together with a new depot and workshop costing €32m, the scheme is the first phase of the Brabo I project, which forms part of the Flemish government's Masterplan 2020 to modernise transport in and around Antwerpen. The second phase to be completed in September will add another 4 km, with the lengthening of Line 7 from Mortsel (Gemeenteplein) to Bouchhout (Carpenberg) at a cost of €44·6m.
The Brabo I package has been delivered by the THV Silvius consortium through a DFBM concession. This brings together Heijmans (road works), Frateur-De Pourcq (tracks and electrification), Franki (depot buildings) and DGInfra+, a private equity fund, supported by GMIV and Belfius (formerly Dexia), under the co-ordination of Beheers­maatschappij Antwerpen Mobiel.
De Lijn will pay fees to use the lines over the 35-year concession period, enabling the consortium to recoup its investment.