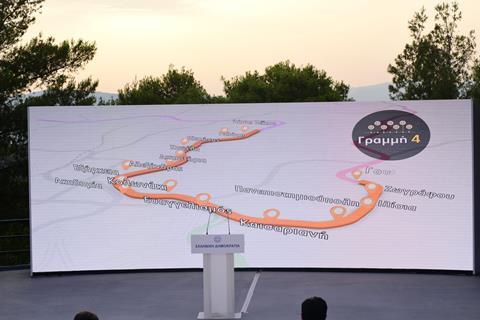 GREECE: Major construction works for Athens metro Line 4 are to start this summer, after the contract for final design work, construction and commissioning was signed by Attiko Metro and a consortium of Alstom, local construction company Avax and Italian tunnelling company Ghella.
The contract, which was signed in the presence of Prime Minister Kyriakos Mitsotakis and Minister of Infrastructure & Transport Kostas Karamanlis on June 22, is worth €1·2bn plus VAT. It covers the 12·8 km Goudi – Alsos Veikou first phase of Line 4, including 15 stations serving densely populated areas, key visitor destinations and providing interchange with existing lines at Panepistimio/Akademia and Evangelismos.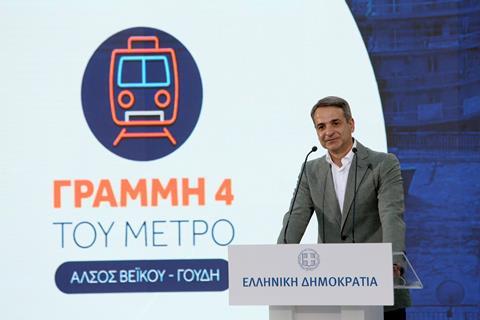 The turnkey contract includes civil works and electromechanical and railway systems, with construction expected to take eight years. The project will include a 10·1 km double track tunnel with an inner diameter of 8·48 m, as well as single bore, variable cross-section and triple track tunnels.
Alstom is to supply 20 four-car fully automated Metropolis trainsets, Urbalis 400 CBTC, Iconis safety and control technology and its Hesop energy recovery and storage system.
A control centre will be built with the capability of taking over management of other metro lines and the tramway, as well as any future lines.
Ridership on Line 4 is estimated at 340 000 passengers/day, reducing the use of private vehicles by approximately 53 000 per day and carbon dioxide emissions by 318 tonnes/day.
Back on track
Karamanlis said the government inherited a project that had stalled in the face of numerous complex problems, but it had focused on getting the scheme back on track after more than 15 years of development.
'Today the most significant project is officially initiated; the largest project to be constructed in Greece in the coming years', he said. 'Line 4 is one of the projects that will change the everyday life of citizens, and will boost our economy for further growth in such a critical time period.'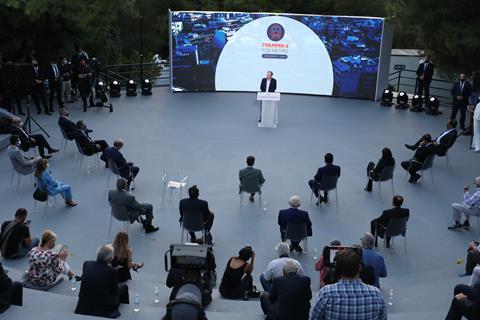 He said the problems meant 'many considered that the tendering process should have been cancelled and start anew', but the government 'took a clear stand' that it could not allow the past years of preparation to be wasted and so it made a decision to 'finally make this project come true'.
Secretary General of Infrastructure George Karagiannis said Line 4 would end 'transport isolation' in the areas it will serve, property values would rise, and travel would be faster and safer with the minimum possible environmental impact.
'This new project shall serve many densely populated areas in the centre of Athens, as well as significant buildings and facilities such as the National Technical University, the university campus, the National Archaeological Museum, the Ministry of Culture, the Law School and Benaki Museum', he said. 'It provides the possibility for more than 300 000 of our fellow citizens to leave their cars and decongest the city streets, and to improve the environmental footprint of transportation and the quality of our life.'