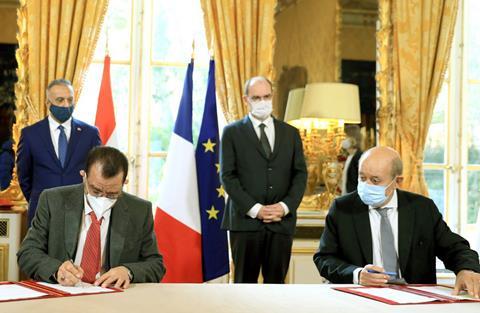 IRAQ: A letter of intent to define the steps needed to go ahead with the long-planned Baghdad metro has been signed by the Ministry of Transport and a consortium of Alstom and Hyundai Engineering & Construction.
The letter of intent was signed when Iraqi Prime Minister Mustafa Al Kadhimi made an official visit to Paris on October 19, in the presence of French Prime Minister Jean Castex.
It is envisaged that a 16 km route would run serve Al-Khadumia, Al-Etafia, Al-Sarafia Bridge, Al-Mustansirya, Wazyria and AlShab, with a 4 km branch to Al-Etafia, Al-Muthana Airport and Al-Alawi also proposed.
'We are extremely delighted to sign the letter of intent and develop our co-operation with the Republic of Iraq', said Müslüm Yakisan, Senior Vice-President for the Africa, Middle-East & Central Asia region at Alstom.
'We believe that with this important project together with the Iraqi government, we will implement our latest innovative technologies to improve the mobility environment in Baghdad and reduce the current traffic congestion.'