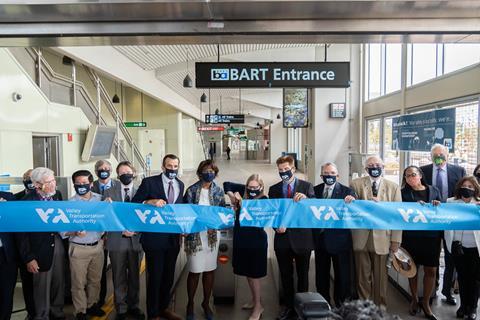 USA: The long-awaited extension of San Francisco's BART metro network to Santa Clara County was opened for passenger service on June 13, after a ribbon-cutting ceremony the previous day.
Running from Warm Springs/South Fremont station to Berryessa/North San Jose with an intermediate station at Milpitas, the 16 km Silicon Valley Phase I extension has been built by Santa Clara Valley Transportation Authority. It is owned by VTA, while BART is responsible for operations and maintenance.
The extension has been funded using $1·07bn from the 2000 Measure A transport-focused sales tax, $363m from the state of California's traffic congestion relief programme and $900m from the Federal Transit Administration's New Starts programme.
Santa Clara County opted out when the BART District was established in the 1960 to build the Bay Area rapid transit network. However, in the light of growing congestion along the I-880 corridor, a major investment study in 2001 identified the need for public transport improvements, leading to the promotion of a BART extension to Silicon Valley. In February 2009 the VTA Board committed to building the extension in two stages, and a groundbreaking ceremony for Phase I was held in April 2012.
Phase II is currently at the engineering design phase. This would extend the line by a further 10 km through central San Jose, adding four more stations at 28th Street/Little Portugal, Downtown San José, Diridon Station and Santa Clara. Interchange would be provided at Diridon Station with Amtrak, Caltrain and Altamont Commuter Express services. Construction of this section is expected to start in 2022, with test running anticipated by 2028 and opening in 2030.
'Efforts to bring BART service to Santa Clara County have been decades in the making', said state senator Jim Beall who represents the area where the Phase I stations are located. 'The resulting mobility, environmental, and quality of life benefits of this extension, and the next phase underway, will serve us well into the next century.'