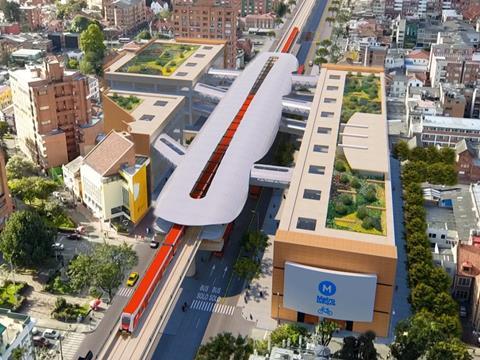 COLOMBIA: Metro de Bogotá began the process of prequalifying bidders to build and operate the capital's first metro line on August 6, when it signed funding agreements with three international lenders.
Interested bidders must submit applications to prequalify by the end of 2018, and Metro de Bogotá expects to award a design-finance-build-operate-maintain-transfer concession in August 2019. Construction is due to be completed in 2024.
The Inter-American Development Bank and the World Bank Group's International Bank for Reconstruction & Development are each providing US$600m, and the European Investment Bank is providing US$480m. The initial tranches, expected to cover the project costs to 2020, are US$70m each from the IDB and IBRD, and US$56m from the EIB.
Total project cost is estimated at US$4·4bn, of which US$700m would be required for land acquisition and the establishment of a project management office.
Metro de Bogotá is to contribute a total of US$2·6bn, with the remaining US$1·1bn coming from the contractor; this would be recouped over the first 20 years of operations. The participating companies are expected to receive financial support backing from their governments.
The 24 km line is planned to follow an elevated alignment in the southwest of the city linking Avenida Caracas with Calle 78, serving 15 stations. A fleet of 23 trains with capacity for 1 800 passengers is to be procured.
The government predicts that the metro would reduce the city's carbon dioxide emissions by 1·3 million tonnes over 30 years. The project forms part of Bogotá's Municipal Development Plan for 2016-19, which also includes feeder bus routes and building 14 km of cycle paths.