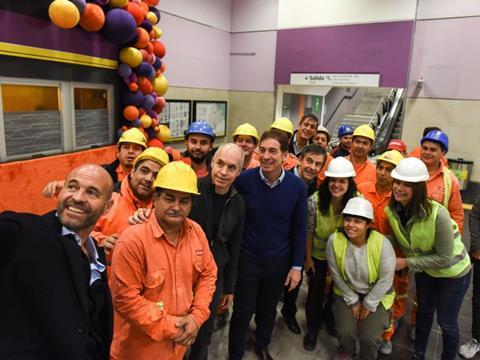 ARGENTINA: Transport Minister Guillermo Dietrich and Buenos Aires Mayor Horacio Rodríguez Larreta opened an extension of metro Line E on June 3.
The 2·4 km extension north from Bolívar to Retiro adds three stations, taking Line E to 12 km with 18 stations. Interchange is provided at Retiro with the Mitre, Belgrano Norte, San Martín commuter lines, as well as metro Line C. Retiro will also be served by metro Line H once that line's extension is completed.
The civils phase was overseen by the national government, before the project was transferred to the city administration in 2015.
Headways on Line E have been shortened from 5 min to 4½ min, and are to go to 3 min by the end of the year. The extension is expected to increase ridership on Line E by 25%, or 63 000 passengers a day.