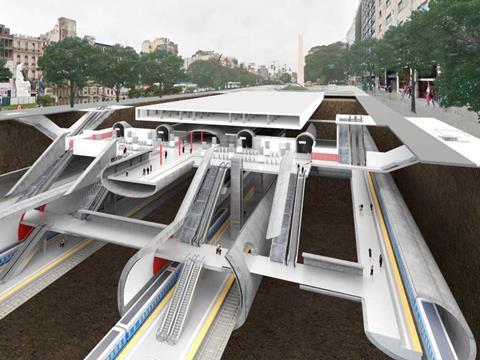 ARGENTINA: The government intends to use a public-private partnership model for the project to create an RER network in Buenos Aires, it announced at a presentation for potential investors held on March 13.
Minister of Finances Luis Caputo explained that a PPP would allow the government to pay off its existing debts accrued through infrastructure projects without the need to raise taxes. The government's share of the funding would come mainly through the proceeds of a tax on diesel.
The first stage of the RER, to be completed by 2023, envisages the construction of an 11 km tunnel under Avenida 9 de Julio linking Constitución and Retiro. This would enable through running from the Roca commuter line in the south to the San Martín and Mitre lines to the north. Two new underground stations would be built, at Constitución and Central Roca.
Further stages would build another 9 km of tunnels to connect the Sarmiento, Belgrano Sur and Belgrano Norte lines.
As well as new infrastructure, existing lines would be modernised and electrified, which would lead to improvements in frequencies. Peak headways of 3 min are planned.
The start of tendering for a new fleet was announced in September. Deliveries of the 1 500 electric multiple-unit cars are due to take place in 2020-23, with the supplier providing maintenance over 10 years in five new depots. The rolling stock would have 20% local content, and would be equipped with wi-fi and air-conditioning.