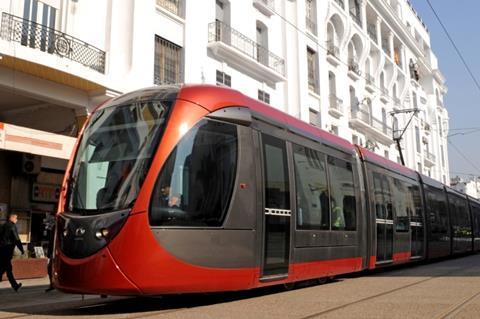 MOROCCO: Casablanca transport authority Casa Transports has awarded Colas Rail two contracts for the construction of tram routes T3 and T4
The first contract is worth €24m and covers the design, construction and commissioning of 25 km of overhead electrification for the two routes, along with the power supply systems and 21 substations.
The second contract is worth €10m and covers the laying of 14 km of track and 11 turnouts in the city centre for project Section 3.
'We are providing our client with a team of experts that have been working on similar projects in Morocco for over 10 years', explained Youssef Naimi, Director of Colas Rail Morocco, on February 23. 'From the design office to the works engineers and to support functions, such as QHSE, this new project will be led by a fully Moroccan management team.'
Line T3 will run for 14 km serving Boulevard Abdelkader Essahraoui, Idriss El Allam, Idriss Harti Mohammed VI, Place de la Victoire, Mohammed Smiha and Casa Por, with 20 stops
T4 will have 19 stops on a 12·5 km route on Boulevard Okba Ibnou Nafiaa, Idriss al Harti, Idriss El Allam, Forces Auxiliaires, Boulevard du Nil, Anoual, 10 Mars, Oulad Ziane, Place de la Victoire, Rahal Meskini, and Rue Allal El Fassi.
The two routes are being built at the same time and to a common schedule, with completion planned for the end of 2023.