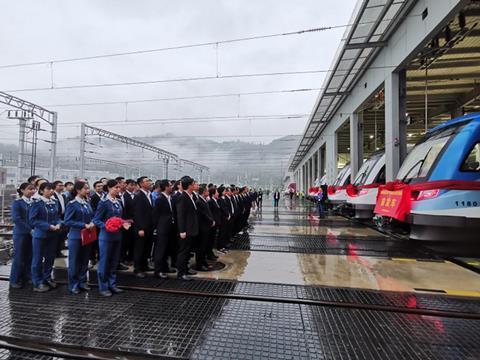 CHINA: The first section of Chengdu's express metro Line 18 opened for revenue service on September 27, exactly 10 years after the start of operation on the city's first metro line.
Running from Chengdu South railway station to Sancha, the 48·2 km Line 18 has been built to serve the Tianfu New Area to the south of the city.
The first part of the route parallels the southern section of Line 1, but with fewer stops. There are nine stations on the initial section, including five interchanges to Line 1, but only eight have been opened.
Line 18 was authorised by the National Development & Reform Commission in 2015, and construction of the first phase began in August 2016. It is the first metro in Chengdu to be built and operated under a PPP model, with a total budget of 34·7bn yuan; at the contract signing in March 2017 it was described as China's largest single PPP project in the domestic transport sector.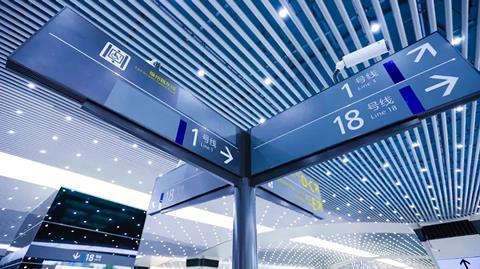 A 19·8 km southern extension from Sancha to Tianfu International Airport is due to open in 2021, adding four stations including three at the airport (Terminal 3&4, Terminal 1&2 and Airport North).
The Sichuan provincial government has already approved plans for three further extensions, including an 11·1 km northern extension which will continue the route under the city centre to Chengdu North railway station, adding another four stations, and a southern extension from the airport to Jianyang South station.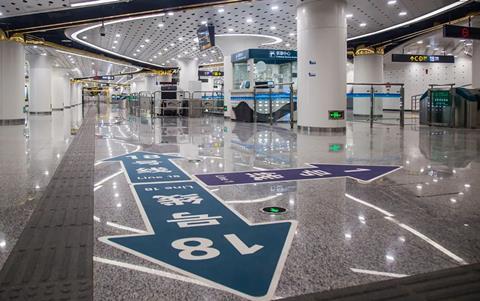 Line 18 has been designed for 160 km/h operation and electrified at 25 kV 50 Hz. Loops have been provided at some stations to enable airport expresses to overtake the stopping trains. The faster services are expected to link the Chengdu South to the airport in 35 min, compared with 50 min for the all-stations trains. At present operator Chengdu Rail Transit Corp is providing a single level of service from 06.00 to midnight, with peak headways of 4½ min.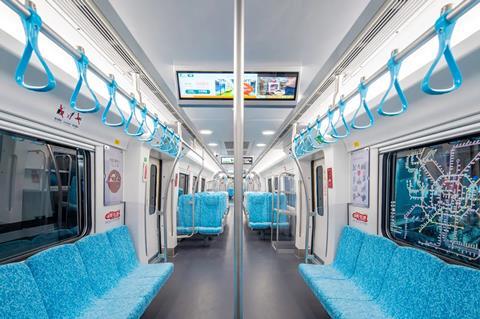 CRRC Sifang has supplied a fleet of 26 eight-car Type A trainsets to operate Line 18; these are 187 m long and run at up to 140 km/h in normal service. They have an interior layout configured for medium-distance travel, with a nominal capacity of 2 096 passengers, and a maximum crush loading of 2 958.