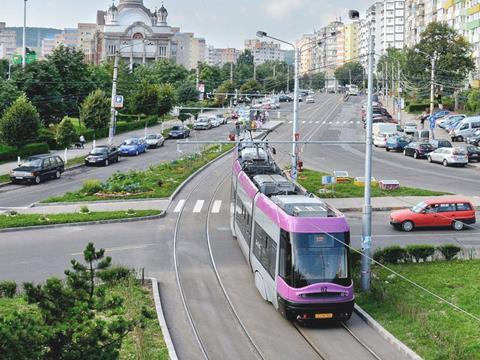 ROMANIA: Cluj-Napoca city council has commissioned prefeasibility and feasibility studies for the development of a metro and suburban rail network in the country's fourth-largest city, augmenting its existing tram route.
Mayor Emil Boc signed contracts on April 23 with a consortium of SWS Engineering SpA, Systra and Metrans Engineering Srl worth 35·9m lei. The council had proposed funding for the study in early 2018, with an estimated pre-tender value of 55·2m lei.
Cluj-Napoca has a population of 310 000, including more than 80 000 students, around a third of which rely on cars to reach the various universities and educational institutes. High hills to the north and south concentrate much of the traffic onto the east-west axis' creating significant congestion on the principal roads. The city's sole 12 km tram line runs from Bucium on the southwest to the eastern industrial district at CUG.
The urban rail studies will cover 'prefeasibility, feasibility, environment impact and strategic evaluation' for two routes. The so-called Metropolitan Train project would see frequent suburban services introduced along an upgraded section of CFR's existing east-west main line. The Metro would be a new route linking the central and southwest districts. The rail network is expected to provide faster access to the city centre, airport, and emergency hospital, as well as providing park-and-ride connections from the A3 Transylvania Highway.
The feasibility studies are scheduled to be completed in 14 months for the Metropolitan Train and 26 months for the Metro. Design and construction is expected to cost more than €1bn. The city envisages that financing would come from the European Union, as well as national, local and private funds.
Construction would be phased, starting with the upgrading of a 43 km segment of the Huedin – Cluj-Napoca – Dej line between Nădășel in the west and Bonțida in the northeast to accommodate the Metropolitan Train service.
The second phase would cover the first 16 km of the metro, running west from an interchange with the Metropolitan Train at Podul IRA through the old city and then to VIVO, Emergency Hospital and Florești, serving 16 stations. A third phase would extend this line a further 7 km west to Gilău.
According to Boc, 'realising these studies for Metro and Metropolitan Train is the most important infrastructure project in Cluj's history. We have already the infrastructure for the train; we have the railway, as well as the Ministry of Transport's project to modernise the Cluj-Napoca – Episcopia Bihor railway. We have in mind the development of a 100 km route from Huedin to Dej, while the Metro and surface variants in the Gilău and Florești areas will decongest stifling traffic levels and raise the quality of life in Cluj.'