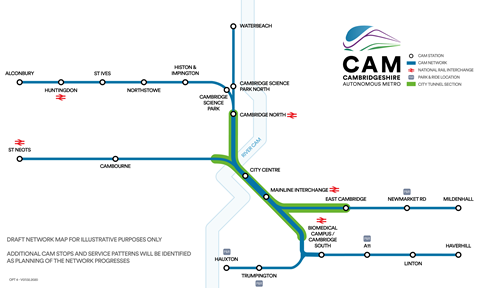 UK: Three groups of suppliers have been awarded contracts to develop 'bold, innovative conceptual designs' for the proposed Cambridgeshire Autonomous Metro.
Cambridgeshire & Peterborough Combined Authority has a vision of a 'flexible, convenient, innovative mass public transport solution' which would provide the region with '21st century connectivity for settlements and employment sites.' The initial proposals envisage rubber-tyred vehicles operating through a small-profile tunnel under the city centre and fanning out at each end to serve six radial corridors.
The suppliers have been asked to submit proposals in March which would provide the authority with a better understanding of how 'existing and emerging' public transport technologies could be applied. The process is not intended to produce a definite plan for CAM, but to 'encourage bold thinking which pushes boundaries, while remaining deliverable and offering value for money.'
Questions to be addressed include the type and size of vehicles which could be used, guidance systems, infrastructure options, what the customer experience should be like, potential commercial models and requirements for future-proofing.
The three groups of suppliers are:
Dromos Technologies, a German company working on autonomous technology for automotive and mass transit applications, with UK designer PriestmanGoode and engineering firms Buro Happold and RLB.
Construction group Egis, supported by 10Design Architects.
Engineering consultancy Mott MacDonald, Hong Kong transport operator MTR Corp, lightweight road and rail vehicle developer Transport Design International, design practice Maynard and transport planning platform provider Podaris.
'We have previously broken the mould and created some of the world's most iconic metro systems', said Egis CEO Laurent Germain. 'With the CAM we have another opportunity to transform the CPCA region by introducing a sustainable solution that is bespoke, optimised and adaptable to emerging technological development that will stand out as a beacon for future autonomous systems.'
CEO of Dromos Technologies Lars Herold suggested that the scheme could 'become a lighthouse project showcasing how to solve passenger transport with 21st century technology', while Stephen Luke, Practice Leader Light Rapid Transit at Mott MacDonald said it was 'an ambitious and unique scheme requiring a careful balance of proven engineering, innovation and creativity'.
'This challenge is a test to the very best brains in the market to help pioneer what the CAM will look like and how it can best be delivered', said Mayor of Cambridgeshire & Peterborough James Palmer on January 11. 'I am clear that we want the CAM to offer our region the kind of high quality public transport normally reserved for the biggest cities. We can be a trailblazer for the future of transport in a smaller cities and their regions and there is no better place in the world to be a first-mover than Cambridgeshire & Peterborough.'