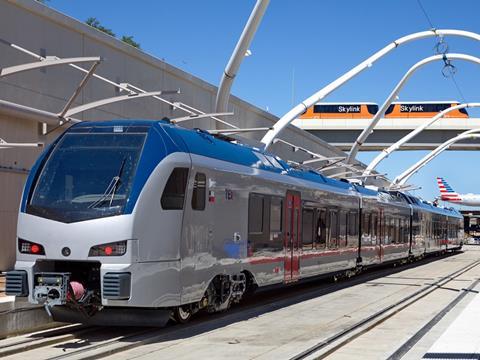 USA: The Federal Transit Administration approved grant funding totalling $64·2m for three project promoters on February 28.
The funds are part of the FTA's Capital Investment Grants programme which rewards transport authorities for delivering investment projects under budget and ahead of schedule by allowing them to retain some or all of the resulting savings and reuse them for future schemes.
Fort Worth's Trinity Metro in Texas finished the TEX Rail commuter rail project a year ahead of schedule and $80·6m below the estimated cost. Under the CIG mechanism, it will retain $38·9m to use to build a 3·3 km extension between Texas & Pacific station and a proposed medical campus in central Fort Worth.
Also in Texas, Houston Metro's completion of the North Corridor light rail line 18 months early and $83·8m under budget will allow it to keep $18·5m for the construction of the Northline Transit Center, which will connect provide interchange between the light rail Red Line and several bus routes.
In Florida, the Jacksonville Transportation Authority will also retain up to $6·8m for a 365 m extension of its East Corridor bus rapid transit route, following the completion of the East Corridor BRT project 25 months ahead of schedule and $13·6m under budget. The CIG retention will also be used to modernise the Jacksonville Regional Transportation Center multimodal hub to comply with current safety standards.
'FTA considers and approves additional project activities using the federal share of a project's cost savings', FTA Acting Administrator Jane Williams explained. 'We encourage project sponsors who deliver complete projects under budget to discuss these options with us to maximise the benefits that cost savings can bring to their communities.'