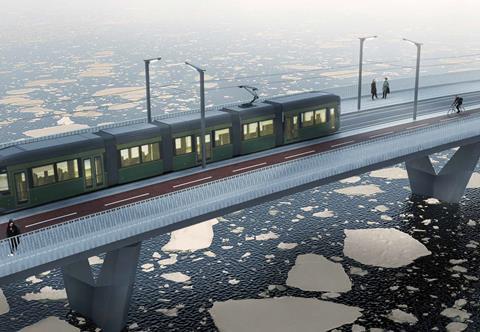 FINLAND: Construction of the Crown Bridges tramway in Helsinki is expected to get underway shortly, after the city council formally approved a revised budget setting the estimated cost at €326m.
The 10 km light rail line will connect Laajasalo in the southeast to the city centre via Korkeasaari island and the Kalasatama district, including three major bridges across the waters of the Kronbergsfjärden. The work includes rebuilding of the dilapidated Hakaniemi bridge across the eastern harbour, and changes to the street layout in the Hakaniemi district. The line is to be paralleled by a 'high-quality' bicycle route and walkway.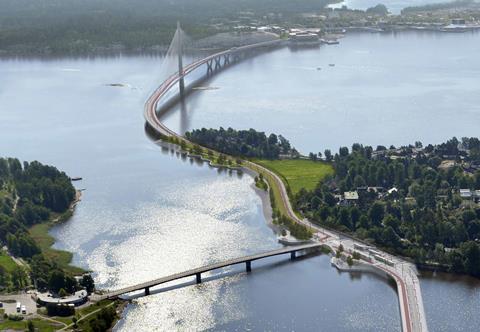 The project is to be executed through an alliance bringing together city transport operator HKL with contractors NRC Group Finland and YIT, plus consultants Ramboll Finland, Sitowise and Sweco Infra & Rail.
NRC Group and YIT will jointly construct the infrastructure, sharing the risks and benefits; NRC values its share of the work at approximately €100m to €110m. The group was also involved in building the Tampere tramway which opened in August and is currently working on the Raide-Jokeri orbital light rail line linking Helsinki and Espoo.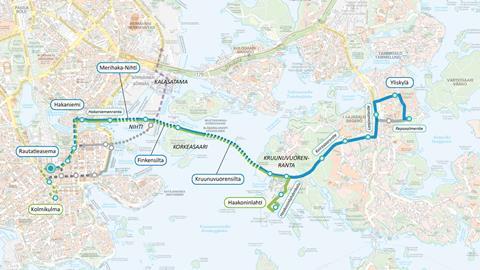 Formal contract signing for the Crown Bridges scheme is expected to take place in October, with construction scheduled to commence before the end of the year. The project is due for completion in 2026, with revenue services from the main railway station to Yliskylä and Haakoninlahti expected to begin the following year.
Earlier this year HKL ordered 23 ForCity Smart Artic X54 LRVs from Škoda Transtech for the Crown Bridges line, as an option on a previous order for 29 to work the Raide-Jokeri line.
'We are very pleased to that the City of Helsinki has approved the construction of the Crown Bridges tramway', said NRC Group CEO Henning Olsen. 'With the execution of this project, we can continue to develop our capabilities in this important market segment.'